Blog  ▸ 
Servertech and You: BYOPDU
Servertech and You: BYOPDU
RJ Tee
March 15, 2018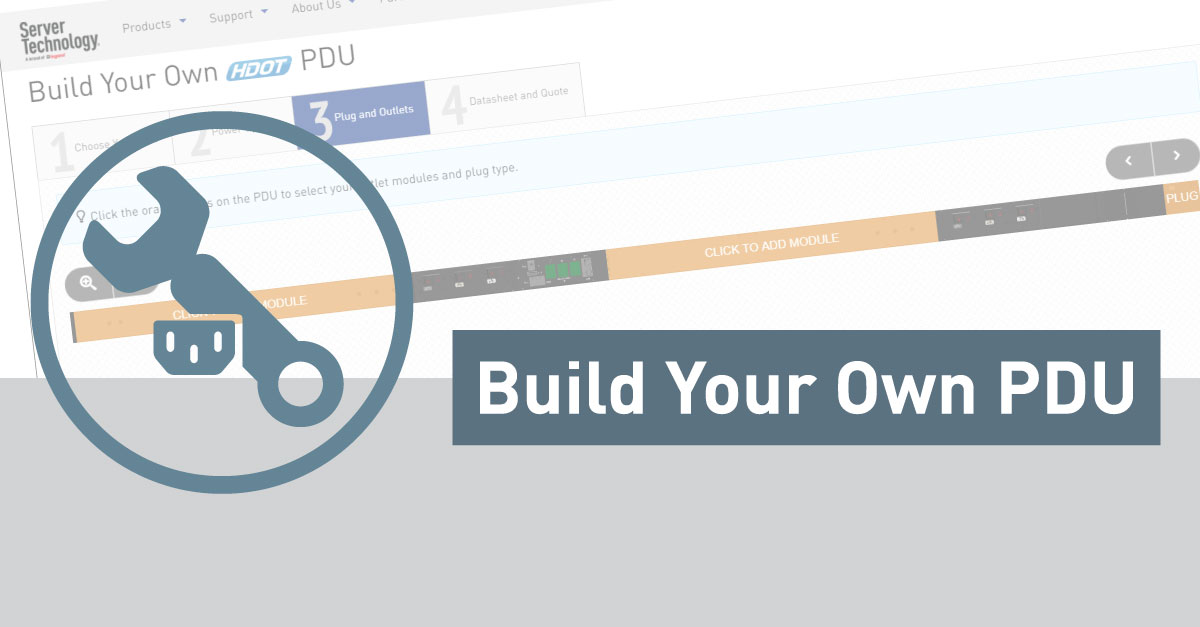 At Server Technology, we focus on what we can do to make the process of identifying, selecting, and purchasing a rack PDU as simple as possible. That dedication to support does not stop when the rack PDU ships. Our philosophy is to provide a high level of service throughout the entire lifecycle of the product.
In our first blog on service and support, we discussed the Rack PDU Selection Wizard as a way to identify the right type of PDU for your application. In the next blog, we discussed using the Rack PDU Selector to dial in the features you need to specify your tailored PDU.
But what if you already know that your application is a perfect fit for the HDOT series of power distribution units? Then we have a proposal for you.
If you are at that point in the specification process, then you likely know that High Density Outlet Technology (HDOT) has the most outlets in a 42U intelligent Rack PDU with industry standard C13 and C19 outlets. You also know Server Tech outlets have high native cord retention, and that alternating-phase outlets are color-coded for easy cabling.
You may also know that alternating phase outlets distribute the phased power on a per-outlet basis instead of a per-branch basis. This allows for shorter cords, quicker installation, and easier load balancing for 3-phase rack mount PDUs. Shorter cords mean less weight, making them less likely to come unplugged during transportation of an assembled rack.
What you may not know is that Server Technology has a configuration tool specifically for HDOT and Alternating Phase applications called BYOPDU, or the Build Your Own PDU tool. The BYOPDU configurator takes a Switched, Smart or Metered 42-outlet High Density Outlet Technology (HDOT) PDU and allows you to build an HDOT PDU your way in four simple steps. Here is how it works:
Decide between a standard or alternating phase, and choose how many outlets you need
Determine voltage, amperage, and phase type
Select plug type and outlet configuration
Review and submit a request for a quote
You configure and we take it from there. The BYOPDU tool is designed to make the selection and order process as easy as possible.
Does your provider help you build the right product for you? Experience power on command and answer the questions yourself to see what PDU is in your future with Server Technology's BYOPDU tool. We are the company dedicated to bringing you the tools and support you need to get the best PDU for your application.
Servertech and You: Solutions Pages