-48VDC Telecommunications Solutions
Metro Ethernet. 4G. 5G. Wi-Fi6. Telecommunication networks are evolving at a break-neck pace and it's only going to get faster. So, who do you trust for your mission critical reliability and remote power management solutions for your telecommunications operations? How do you reduce your operational costs, "truck rolls" and customer network issues all the while improving network reliability, uptime and service? Trust Server Technology to provide the solutions to help you monitor, manage and remotely operate your network.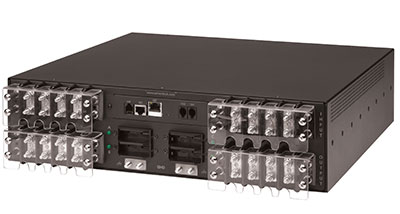 Remote power management for your telecommunications network.
Fewer truck rolls can mean big savings.
How many times a week are your field technicians sent to a site to deal with a simple switch power reboot to cure a "hung" or unresponsive device, such as a Core or Edge server? In these tough economic times, sending out fewer trucks to your remote sites can certainly cut costs.
Server Technology offers several -48VDC remote power management solutions which many Tier 1 carriers are deploying in their networks today. Our -48VDC solutions lets you:
Distribute power to all equipment in the rack
Remotely reboot Core and Edge Ethernet switches
Measure power loads in Amps at each DC power output block
A variety of input and output amperages
Reboot your switches remotely.
Improve your Service Level Agreements (SLAs)
Are customers contacting you before you are aware of a network problem to tell you that an issue exists in your Metro Ethernet network? What if you could resolve that issue before it affects your SLAs and the charges associated with downtime? Server Technology's solutions can help you save on resolution time and associated penalties as well as saving face with a dissatisfied customer.
Next Generation Wireless Network (5G)
Whether you are using Open RAN, Cloud RAN, Akraino, Open Stack or Kubernetes in your network, successfully deploying today's 5G wireless technology is dependent on hardware and software that is "open." Automation of the network operation and maintenance will be instrumental in delivering on the 5G promise of high speeds, low latency, and improved quality of service (QOS). Network slicing demands high quality connections that rely on everything being on with 100% reliability.
Server Technology's solutions for -48VDC power distribution support are supported in most DCIM and open management tools, enabling automation of your critical power infrastructure.
How do you handle simple firmware and software downloads? Do you need to manually reboot Ethernet switches after downloads? What if you could remotely reboot Ethernet switches rather than send a field technician, saving you precious time and resources?
---