Blog  ▸ 
Low on Real Estate, High on Rack Components?
Low on Real Estate, High on Rack Components?
Josh Schaap
December 05, 2016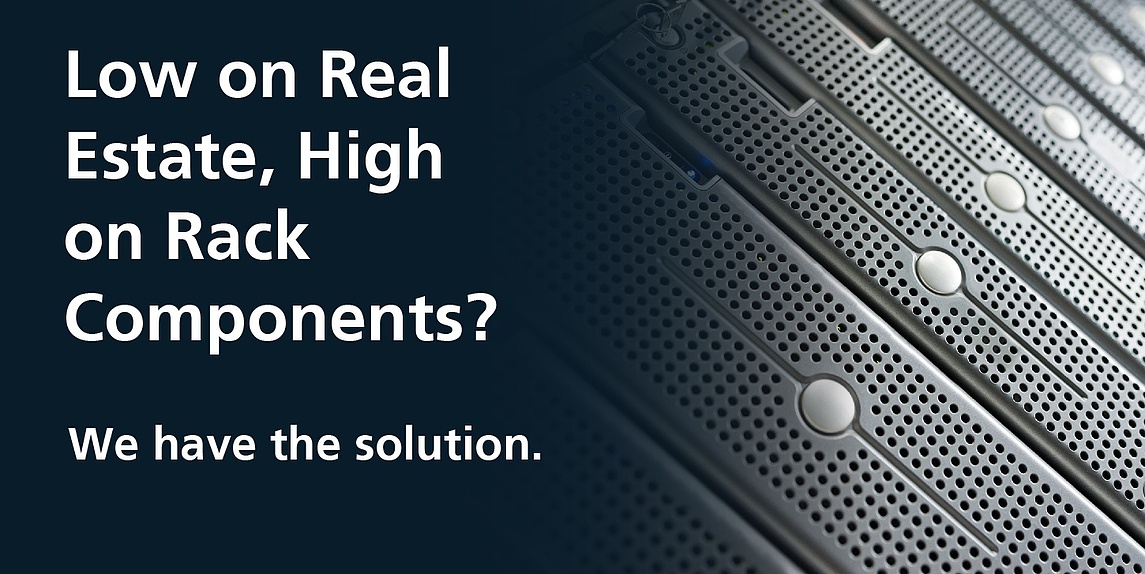 Forget about that row of coveted window offices…the hottest real estate in your building right now can be found in the back of your data center's racks!
Why is the back of the rack so valuable? This seemingly insignificant space can make or break your data center densification strategy.
Here's how:
Space is very limited in the back of the rack, which makes it difficult to tinker with rack densities. After all, you can only fit so many servers into standard 42U cabinets. And space becomes even more constricted when factoring in room for cooling, power cords and bulky power distribution units (PDU).
In order to safely maximize space in the rack, you need PDUs that are not only ultra- skinny, but which are also reliable and capable of powering all of the various components in your racks.
You need High Density Outlet Technology (HDOT) PDUs from Server Technology, which can support more rack components than any other PDU per form factor.
To combat the limited physical space that PDUs compete for in the data center rack, Server Technology developed High Density Outlet Technology (HDOT), the smallest form factor PDU which significantly increases real estate in the back of the rack by fitting as many as 42 C13's in a 42U high network managed PDU device—that's over 20 percent smaller than a comparable PDU using standard outlets. In conjunction with the launch of HDOT, Server Technology developed a quick turn manufacturing process that provides short lead times for PDU's with the exact combination of C19 and C13 outlets in the locations where the customer needs them. The HDOT design also provides high native cord retention of over 12 pounds pull strength, reducing or eliminating the need for custom and costly ancillary locking cord devices. With increasing outlet density comes increased power, and potentially increased heat. HDOT is manufactured with robust high-temperature materials carrying a UL94 V-0 flame rating, making these outlets ideally suited for the harshest data center environments
Here's the great part:
HDOT PDUs can save you more than just rack space. They will also save your company money, and spare you headaches with Per Outlet Power Sensing (POPS). Our latest addition to the HDOT product line is Per Outlet Power Sensing (POPS), which provides +/-1% billable-grade accuracy for energy consumption at each outlet for typical data center equipment loads. POPS also includes current, voltage, active power, apparent power, power factor, and crest factor at each outlet. This provides the ultimate in efficiency and capacity analysis. POPS enables alarms and warning signals on current, power, and power factor for both low and high values.
Need remote power management at the rack level? You can do that with HDOT's Switched Outlets. With the ability to turn ON and OFF or reboot outlets individually or as a group, certain features become possible such as outlet access and lock-out, power-up outlet sequencing that reduces the likelihood of power-up inrush, and our optional smart load shedding.
Furthermore, you can put the calculator away when trying to balance a 3-phase PDU. With HDOT's Alt-Phase Technology you can distribute phases on a per receptacle basis (rather than in discrete separate banks), providing tangible benefits in the form of shorter cable runs, resulting in better airflow, easier load balancing, and greater efficiencies. Prior to the advent of HDOT, Alternating Phase products were impractical to build due to the low outlet density inherent with discreet commercially available outlets.
Safety and reliability are another top concern when adjusting rack densities, so it's important to watch for temperature fluctuations. Denser racks are much hotter, and can lead to fires and outages if left unmonitored. HDOT PDUs come with a UL94 V-O flame rating, making them suited for harsh data center environments. They can also sync with Server Technology's Sentry Power Manager, which can provide real-time temperature and humidity metrics.
What's more, HDOT PDUs are built on the PRO2 hardware and firmware platform, which helps ensure stability, performance and uptime. And their alternating phase outlets can make load balancing a breeze.
Five Key Benefits of HDOT Switched POPS PDUs