Blog  ▸ 
Five Key Benefits of HDOT Switched POPS PDUs
Five Key Benefits of HDOT Switched POPS PDUs
RJ Tee
December 06, 2016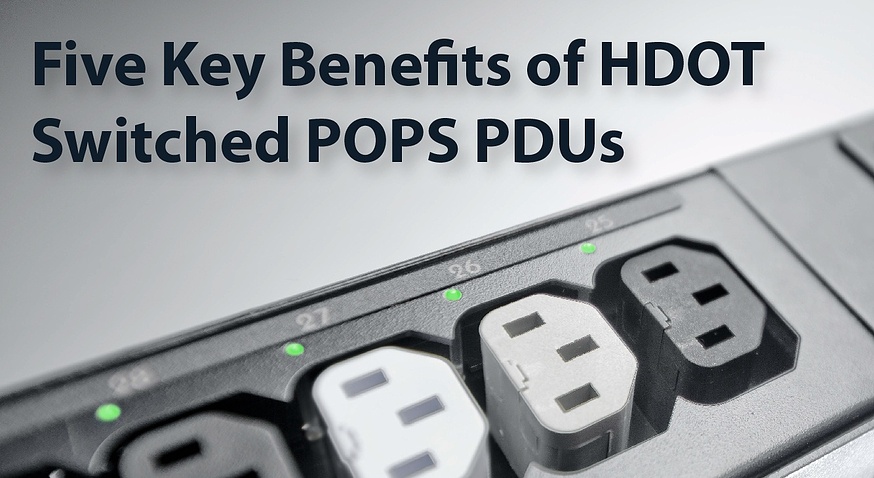 Not that long ago, we told you about our customer-focused approach to design and production. We showed how our products often result from working closely with customers to determine their power distribution needs. Now, we're excited to roll out the newest evolution in customer-driven design: the HDOT Switched POPS PDU.
With this HDOT® Switched POPS® (Per Outlet Power Sensing) unit, we've unleashed one of the most powerful additions you can make to your data center floor, giving you complete control and the peace of mind that comes with it.
Here are the top five reasons to consider HDOT Switched POPS:
All the right outlets in all the right places:

featuring a slimmer form factor and stacked outlets, our HDOT (High Density Outlet Technology) PDUs are designed with the maximum density in mind.

With HDOT technology, we're able to fit as many as 43 C13s in a 42U high network managed PDU device, which is more than 20 percent smaller than PDUs employing standard outlets.

High native cable retention:

Our PDUs feature high cable retention to reduce accidental disconnects by making sure power cords are solidly connected to devices.

Our PDUs are tested for up to 12 pounds of pull strength, eliminat

ing

the need

to purchase

ancillary locking cord devices.

Easy load balancing with alternating phase:

With HDOT technology, you're

not only

getting the highest outlet density available in a network-connected rack PDU

, but you're also getting three-phase powered wired in an alternating fashion per outlet. This helps simplify load balancing, reduces cord lengths, and stimulates better airflow.

Build it yourself:

With Server Technology's

Build Your Own PDU too

l, you can select the

number and arrangement of outlets that best suits your data center power needs.

Our new

f

our-

s

tep configuration process graphically

walks you through

customization options such as

voltage, amperage, phase, plug type, input cord orientation, outlet configuration, connectivity, and color selection.

Options galore

:

HDOT PDUs are available in smart, switched, and POPS.

With the addition of the switched line, you

're able to

remotely

turn outlets on, off, or reboot them – either individually or as a group.

See our

complete line here

.
With POPS onboard, our PDUs provide +/- 1 percent billable-grade accuracy for energy consumption at each outlet for typical data center equipment loads. The POPS technology also includes warnings and alarms for current, power, and power factor, both for low and high values.
Innovative Power Solutions for Government Clients: Part 1