Blog  ▸ 
Data Center Choices – Part 1 A Colocation Facility?
Data Center Choices – Part 1 A Colocation Facility?
RJ Tee
February 14, 2017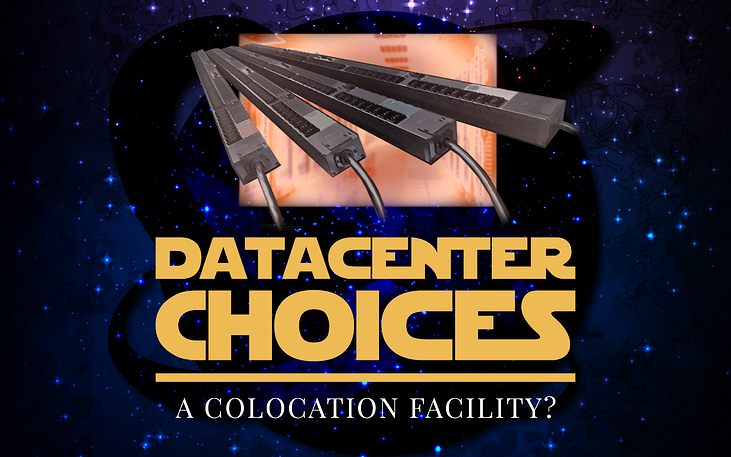 A long time ago in a data center far, far away, users had only a handful of choices: build your own enterprise data center or house a server rack in your company's storage closet. The hybrid options were few and far between.
Colocation facilities are attractive to many businesses because they provide a "best of both worlds" scenario with many of the physical benefits of larger data centers along with more platform flexibility than the cloud.
Staked out as a piece of middle ground, the colocation facility is essentially a building where tenants can bring their own servers, racks and power, with the colo provider ensuring uptime, cooling and a secure environment. Think of it like this. If enterprise data centers are mega mansions, then colocations are high-end condominiums with multiple tenants.
Server Technology Regional Sales Manager Jon Vanhoose says moving to a colo needs to make sense for your business, and that it's not a one-size fits all scenario.
"Compared with operating a privately-owned data center, moving to a colo comes down to a calculation of your costs," Vanhoose says. "As long as you're not giving anything up from a security or operational standpoint, it's a great, affordable choice."
So, how does a colo work? As you'll see, it depends.
BYO Equipment
In some cases, the colocation provider merely provides a shell – a building in which to house your racks, power and other infrastructure. In this case, it's truly a bring-your-own equipment situation, where you call the shots with your power, cabinets and other components.
You Bring Some Equipment
In other cases, the colocation provider will furnish you with everything which can include power, but the racks are up to you to deliver.
Full-Service Colos
In this third instance, the colocation provider provides nearly everything you need to get up and running. In this full-service arrangement, you have little to no control over your power, rack types or ability to monitor the temperature of your own equipment. You have to take the colo's word that everything is running smoothly and efficiently.
With each of these types of agreements, the way you're billed for power can also vary, from actual usage to a flat rate, which we'll explain in part two of this series.
Whatever the case, a colocation facility is attractive to those seeking more control than a cloud-based solution can provide. Many businesses will choose a colo over the cloud because they're running platforms that aren't cloud compliant or because they have specific security needs that simply won't work with the cloud.
One major feature of a colocation environment is reliably consistent uptime. With the rise of e-commerce and the need to be operational 24/7, colocation providers are jockeying to guarantee 100 percent uptime. For smaller companies, however, the cost of a colo simply doesn't make sense, despite the advantage of uptime.
"Price is a big factor when choosing to move to a colo, "Vanhoose says. "A lot of organizations just aren't that big. If you have a server rack in the back of your office, it's really a minimal cost. With colos, people are paying a premium for connectivity to the web and for uptime. It's a convenience thing."
Regardless of what your situation may be, a colo may might be an answer to your strategic business requirements. For more information about what Server Technology can do for you in regards to your current or next colo deployment, visit our Colocation Solutions page.
Data Center Choices - Part 3 Return of the PDU