Blog  ▸ 
The History of HDOT: How It All Started
The History of HDOT: How It All Started
Annie Paquette
July 11, 2019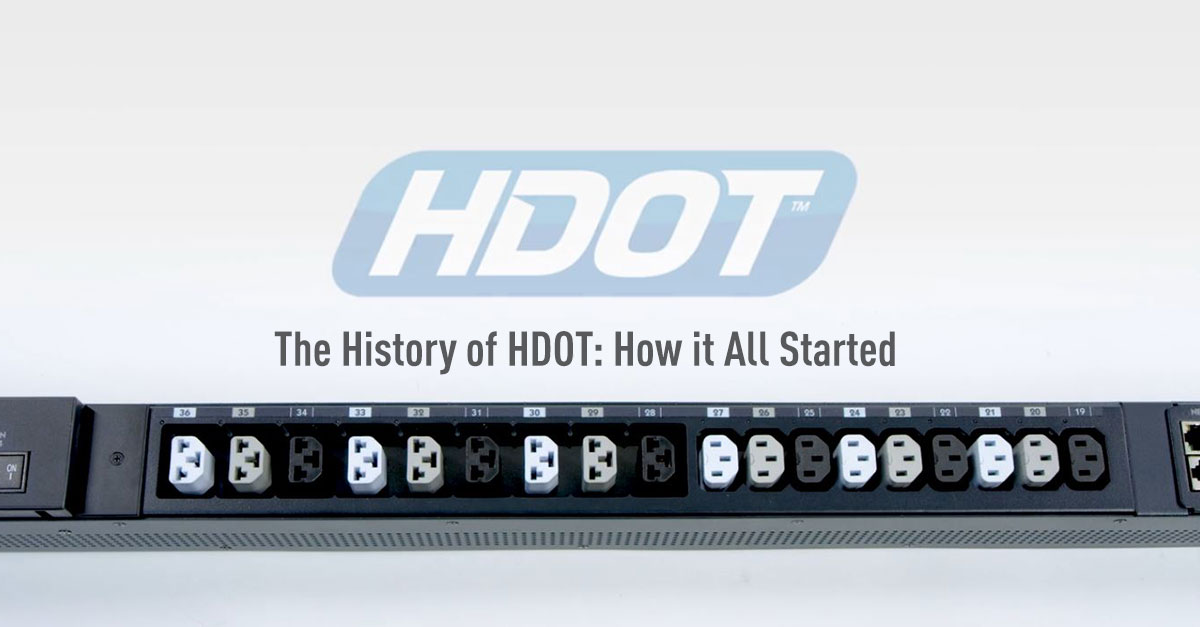 Server Technology has provided power solutions for labs, data centers, and telecommunications operations for 30 years; however, Server Technology has more recently became known as the leader in intelligent PDU power with the development and release of high density outlet technology, or HDOT. HDOT was developed when our power experts kept hearing that their customers were short on available plugs in their rack PDUs, and high on IT components needing power. In light of the release of the new, award-winning HDOT Cx, we thought that it would be important to put our new product innovation in the historical context of its development.
In 2014, server, storage, and network equipment continued to increase in density, and not only from the standpoint of power consumption. Data center equipment was also arriving in smaller form factors. The promise of smaller IT hardware was an increase in the number of devices that could fit in a rack, which meant fewer racks, and thus smaller overall data center footprints.
Promise bumped up against reality when customers were physically unable to plug in and power all of that equipment. Standard rack mount power distribution simply did not provide the number of receptacles required to power all of the gear. That is when our engineering team got to work and presented the industry with a solution to that problem: high density outlet technology, now known simply as HDOT.
So how did the product come to be? The short story is that we let our customers design it.
The longer story is that not that long ago, the server power distribution industry was not keeping pace with the rapidly changing compute environment. There was a radical shift in compute demand, which was met with newer, faster servers. The price for the shift in technology was paid for in kW, and the new server, storage, and network gear required far more of it than traditional power strips could provide.
It is important to understand what HDOT was – and wasn't. The HDOT product was never intended to be a basic data center PDU, but rather a single solution to the varied issues of density, planning, and power management.
Our position in the industry at the time allowed us to sit in the same room with the people who were faced with meeting these new power distribution challenges. We sat. We listened. We learned.
There were several key factors driving the changes:
Higher density and smaller servers required higher capacity PDUs with far more outlets
Higher capacity required shifting from single phase to three phase power
Shifting to three phase power meant distributing at higher voltages
Higher demands for reliability demanded more monitoring and control
Each customer and computing environment had different rack distribution needs
Customers needed to be able to configure and take delivery of product quickly
The success of the HDOT product family consisted primarily in being able to meet each and every one of these requirements. With the highest number of outlets in a 42U intelligent rack PDU, featuring industry standard C13 and C19 outlets, the HDOT grew to be available in every power, outlet, and monitoring configuration available. By removing the outer casing of a standard outlet, our team was able to fit more outlets in one PDU without having to create a bigger chassis. Our customers eventually created their own configurations.
The History of HDOT: Early Development