Blog  ▸ 
HDOT Success Part 1: Staying True to Our Vision
HDOT Success Part 1: Staying True to Our Vision
RJ Tee
September 10, 2018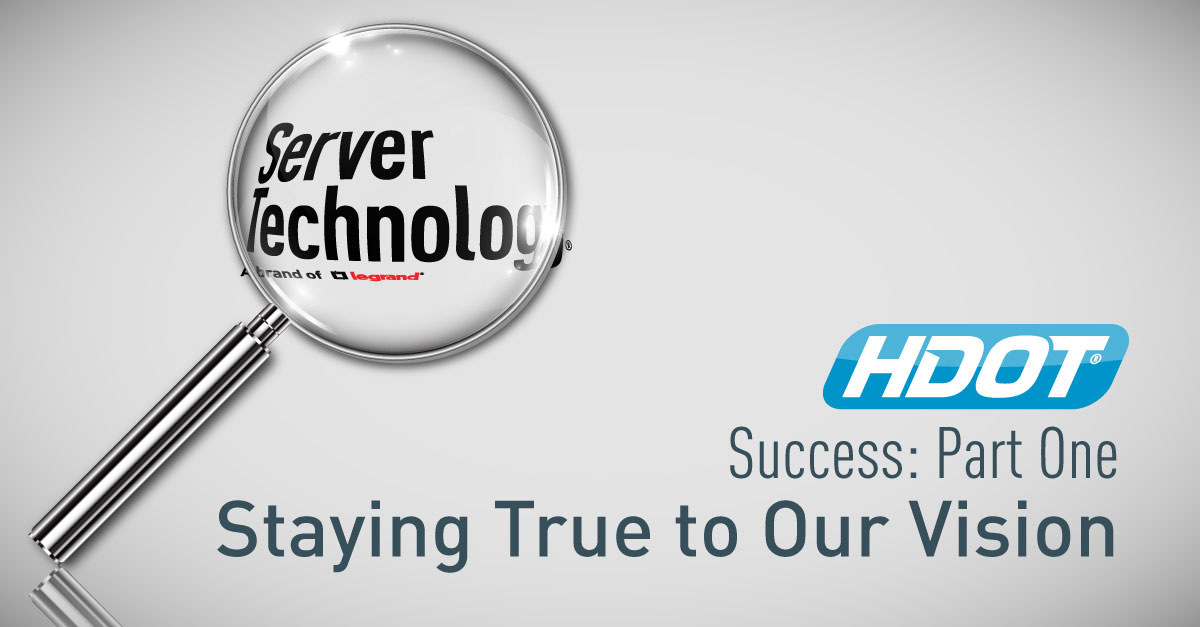 Sometimes it is a good thing to take a step back and take a look at the big picture. For most of us, it offers opportunities: for reflection, to be reminded of what is important, and to refocus on the things that will make the biggest impact in our lives. For companies like Server Technology, the same holds true. We find that it is essential to take a step back and make sure that what we do day in and day out is focused on our core mission.
For many of you, our mission statement is simple and familiar: Stay Powered. Be Supported. Get Ahead. But what do those words mean in light of our desire for continuous improvement in server power distribution? Here's what we think.
Stay Powered: Server Technology only focuses on power. With the best testing in the market and longest mean time to failure (MTTF), Server Technology provides uncompromising quality, reliability and value for the data center. Our customers state that our quality is the number one reason why they choose Server Technology rack mount PDU(s).
Be Supported: Year after year, our customers rate support to be a key differentiator between us and our competitors. At Server Technology, comprehensive product support starts before you buy and extends throughout your relationship with us. Server Technology is focused on getting you the solutions you need, when you need it. We also offer tools such as the PDU Selector to help customers through the selection process.
Get Ahead: The ongoing exercise of designing new solutions has not only helped us secure a loyal customer base, it has also resulted in more Rack PDU design innovations than any of our competitors. Take for example our HDOT High Density Outlet Technology. The HDOT PDU is the embodiment of our mission to help our customers stay powered, be supported, and get ahead.
Here's the proof: the HDOT rack PDU is the most popular, highest selling, most innovative rack PDU on the market today. That is not a bold claim. It is a fact based on industry sales. It is also a fact that the HDOT was the winner, again, of the 2018 DCS "Data Center PDU Product of the Year" category.
The challenge that comes from this success is an interesting one, and one that the engineering team at Server Technology does not take lightly. How do we make sure the HDOT product family continues to help our customers get ahead? How do we make improvements to the most popular rack power distribution product on the market today?
If you haven't guessed already, the answer is that we took a step back and looked at the big picture. In the next blog in this three-part series on the HDOT product, we will address the questions posed by product success and the lessons learned along the way.
HDOT Success Part 2: Lessons Learned