Blog  ▸ 
5 Reasons to use Intelligent PDUs in Edge Data Centers [WEBINAR LINK]
5 Reasons to use Intelligent PDUs in Edge Data Centers [WEBINAR LINK]
RJ Tee
March 02, 2017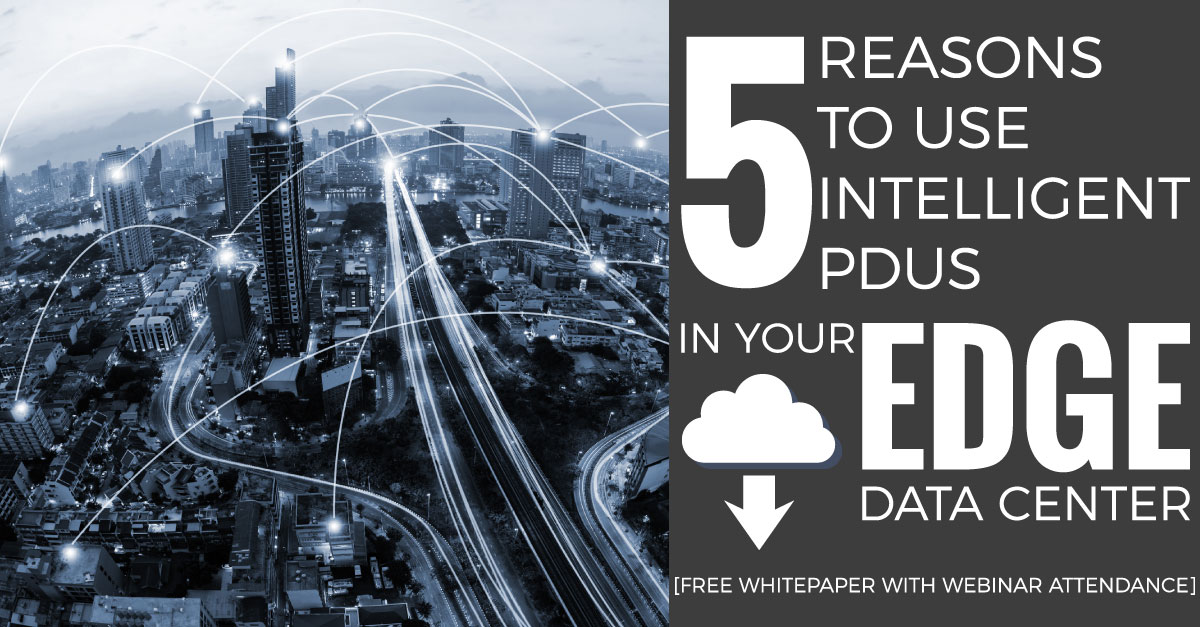 A growing number of companies are now moving their servers to the "edge" of the network for lower latency data transmissions, and reduced network operating costs. This is one of the major trends occurring in the IT space right now, and industry experts predict it will continue to accelerate in the coming years. (You can learn more about Edge Computing in our upcoming webinar.)
Not all businesses, however, are experiencing successful migrations to the edge of the network. Many are finding the process to be much more difficult than they anticipated.
While there are many benefits to decentralizing network infrastructure, there are also many drawbacks. The process can be expensive and risky, as edge facilities — just like traditional data centers — can consume massive amounts of electricity. And oftentimes, there is little visibility into how power is being allocated across a remote network.
Businesses that are looking to experiment with edge deployments are strongly encouraged to keep a close watch on how their remote power consumption. Intelligent power distribution units (PDU) offer advanced protection for businesses using edge deployments. More than just basic power outlets, intelligent PDUs provide a wealth of energy usage data and advanced management capabilities.
Here are five benefits to using intelligent PDUs in edge data centers:
Maintain uptime:

It can be very difficult to maintain uptime in an onsite data center —let alone from hundreds or thousands of miles away. Server Technology's intelligent PDUs come with built-in fault tolerance, as well as real-time branch current measurements and multi-level alerts. Plus, their full switching capabilities enable IT managers to perform remote power management functions for rapid response troubleshooting from any location.
Intelligent PDUs, it should be noted, are essential for any facility that is looking to experiment with different power loads at the edge of the network. For instance, if you are thinking of running an edge facility at 415/240 VAC for extra computing power, you're definitely going to want the added protection of an intelligent PDU as your facility will be at increased risk for downtime or overheating.
Reduce truck rollouts:

By maintaining uptime and performing remote maintenance on edge infrastructure, administrators can reduce truck rollouts — thereby saving money each year on fuel bills and truck repairs. This means more money can be pumped back into the data center instead of into fleet management. And technicians can spend less time traveling back and forth between remote locations.
Go green:

Just because a data center is offsite doesn't mean it's a separate entity. So any enterprise looking to achieve recognition for its use of green technologies in the data center will have to account for its edge facilities, too.
Intelligent PDUs can provide IT manager's with real-time and historical power usage data like crest factor, apparent power, active power, voltage, load (amps), and more.
Armed with this information, businesses can confidently market their green data centers without having to worry about being accused of "greenwashing"— or providing misinformation about carbon emissions.
If you're going green in the data center, make sure to back up your claim—or pay the price!
Prevent environmental disasters:

Servers are very sensitive to

environmental fluctuations. And the issue is even more heightened at scale when hundreds or thousands of servers are being used in a confined space.
Intelligent PDUs— like the ones offered by Server Technology — can provide SNMP-based email alerts so that administrators can immediately spring to action when environmental conditions exceeded their allotted thresholds. For example, if a data center gets too hot, a remote switching operation can be executed to safely power down equipment and prevent a fire from breaking out.
Save money:

At the end of the day, a data center and all of its assets — either remote or onsite — can be a major drain on a business's budget. A data center can be the most resource-intensive department in a company. And with an increasing number of executives now outsourcing data center operations, it's imperative that IT administrators find ways to slash costs and streamline efficiencies in their facilities. Intelligent PDUs can provide a wealth of power usage information, providing the ability to make critical changes when they are needed to reduce costs in the data center.
Server Technology offers a complete line of intelligent PDUs, ranging from basic models with High Density Outlet Technology to advanced units with embedded switching controls. Server Technology also offers the Sentry Power Manager (SPM), which is an online portal for managing intelligent PDUs. SPM makes it easy to see exactly where PDUs are located.
Webinar Details:
Delivering Resilience and Uptime at the Edge -

July 20th 2017

Edge computing has quickly emerged as one of the top data center trends, and we only see this pattern accelerating as the need for high-speed connectivity increases over the next 10 years. Edge, mobile edge, and fog computing are being utilized to speed content delivery, improve services and localize analytics. However, these distributed and remote locations, often with no local IT support, produce additional challenges for the data center and IT teams as they seek to ensure a seamless, always-on application service, whatever the infrastructure and wherever the data resides.

Moderated by Prof Ian Bitterlin, Principal Consultant of Critical Facilities Consulting Ltd and Phil Alsop, Editor of Data Centre Solutions magazine, Server Technology's Marc Cram and Wolfgang Goretzki will discuss the key challenges faced by data center managers when migrating to the edge and explain how to:
Maximize uptime and resilience
Manage power remotely
Reduce operating costs
Plan growth and capacity
Remotely monitor power and environmental information
Federal Data Centers: Use Switched POPS PDUs to Save Money