Colocation Solutions
Whether you operate a state of the art colocation facility or are deploying your critical equipment to an off-premise colocation provider, you need reliable, quality rack power monitoring and management tools. With ready-made rack PDU solutions in as little as 3-5 days plus 12,000 PDU varieties to support your unique requirements, Server Technology has you covered.
---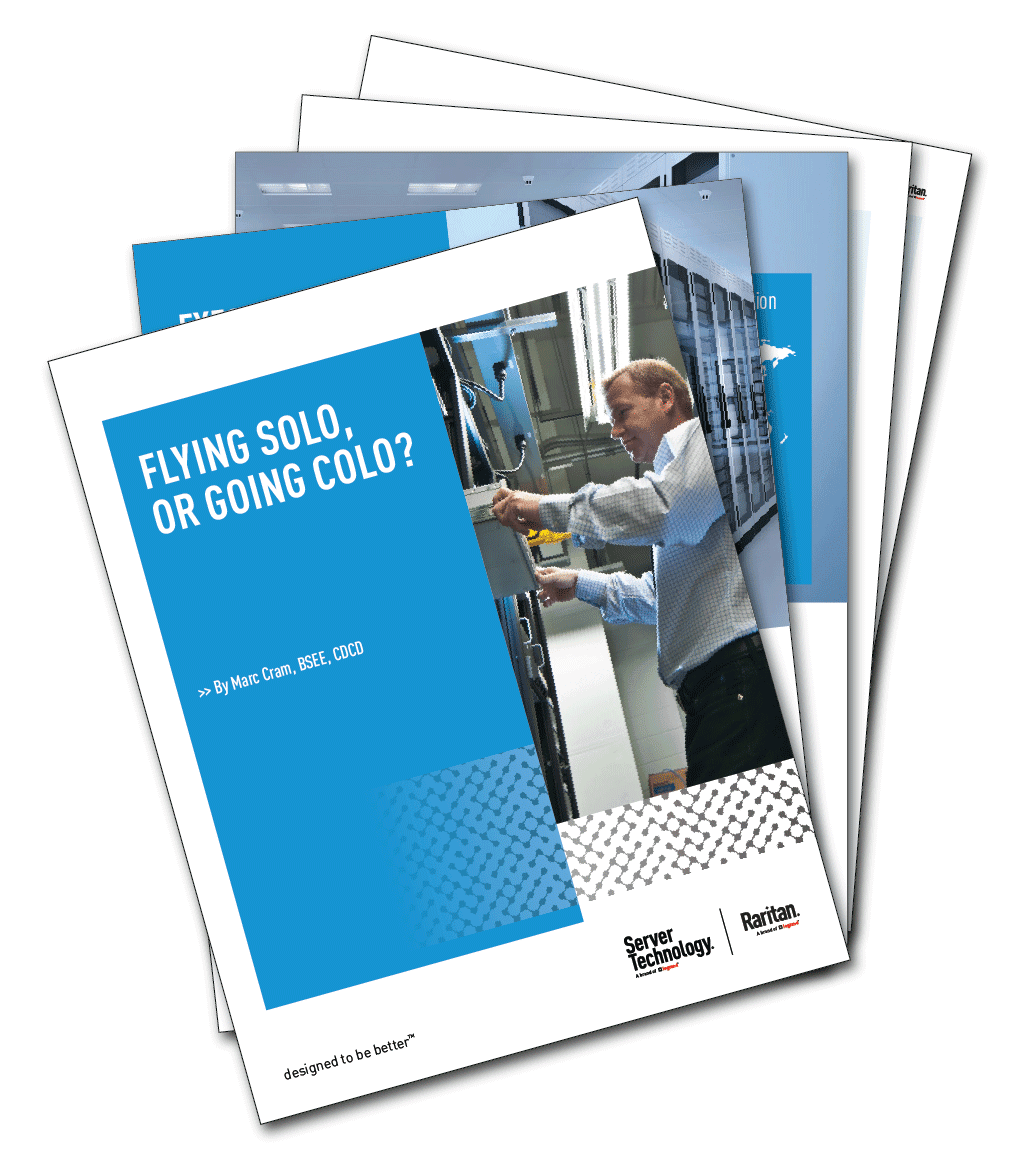 New White Paper: Flying Solo, or Going Colo?
Building and operating an enterprise data center ("flying solo") can be a daunting task that is capital intensive. Being a tenant at a colocation provider can take a lot of burden off the corporate facilities team and reduce CAPEX, yet leave the IT side of the house bearing the brunt of the responsibility for maintaining uptime of critical infrastructure while concurrently minimizing OPEX. Learn how by installing intelligent racks can maximize uptime and ROI.
Download the New White Paper Today
---
The Colocation Solution

Server Technology's power strategy experts have worked with hundreds of data center and IT professionals just like you to ensure get ahead on your deployment. Need the ultimate power solution for density and flexibility? Configure your own HDOT Cx, with 2 Outlets in 1, ships in 10 days, in just four easy steps.
Build Your Own PDU

Moving Into a Colo?

Maximize your investment and uptime by choosing Server Technology Rack PDUs for maximum remote power monitoring and management capabilities. Ready to specify your solution? Use our PDU selector to quickly discover the perfect intelligent PDU for your power strategy.
Find Your Solution

Colocation Providers

Why Server Technology for your colocation facility?

30 Years of Data Center Expertise – let us be your Power Strategy Experts
Best uptime, monitoring/management solutions for your clients
Ready-Made Rack PDU solutions in as little as 3-5 days
Unbeatable Support – our #1 differentiator

Contact Us Now
Software - Increased uptime and higher computes density translates to greater ROI




The Challenge:

Turn operates a highly scalable multi-tier server infrastructure that runs a "big data" analytics engine and software suite which provides a lightning-fast managed-service and self-service platform for brand and agency customers globally. Turn's success in advertising analytics required that their systems be deployed across multiple data centers (on premise and colocation). As they grew, their systems became more complicated and the number of hardware configurations and multiple points of data posed a significant opportunity for optimization globally.

Outcome:

Learn how Turn consolidated their Rack PDU configurations to one flexible solution that reduced 5-10% floor space and streamlined reporting of energy usage across all data centers.

"We were able to validate power consumption versus colocation provider reports."

Randall Wofford
Data Center Manager, Turn

Read the Case Study

Switched PDUs Provide Uptime and Remote Management for picturemaxx and their 10,000 clients.




The Challenge:

Picturemaxx utilizes off-site colocation environments. Running hundreds of applications across multitudes of remotely located servers and storage arrays requires a very complex software stack. And while the adoption of virtual machine technology has meant that a lot of software problems can be solved through the restart of a virtual machine, occasionally a cold reboot of the hardware is required to restore things to working order. With an offsite datacenter, cycling a machine on and off means either lost time to travel to the facility or else an expensive "remote hands" support call to the colocation provider.

Outcome:

Learn how Picturemaxx was able to save precious time and money by having the ability to see power draw at the rack level and to cycle power to individual outlets to quickly recover a locked up server at a remote facility.

It only takes one or two instances of a locked up server being remotely reset to pay for the functionality of a Switched PDU,"

Michael Weinrich, Senior DevOps Engineer, Picturemaxx

Read the Case Study


Security – Power management and monitoring at the outlet level improve uptime with fewer power outages




The Challenge:

The Security company had to configure lab expansion of 50 racks into facilities where the power and cooling systems of the colocation providers vary by facility, and are different from those within client's internal lab environments. Additionally, these clients required a detailed understanding of how much power is consumed while performing a variety of software algorithms.

Outcome:

By working with Server Technology, the Senior Infrastructure Engineer at this security company allowed him to rapidly identify assets and build out reports aggregates power draw for an entire row as well as set thresholds for upstream breakers. Having this capability helped the client to experience improve uptime and a better understanding of capacity for future growth.

"Each step up the 'improvement ladder' was successful. And when there were issues, Server Technology quickly helped me to remediate the issue."

Senior Infrastructure Engineer of Global Labs

Read the Case Study