Blog  ▸ 
What Rack PDU is Right for You?
What Rack PDU is Right for You?
RJ Tee
September 06, 2016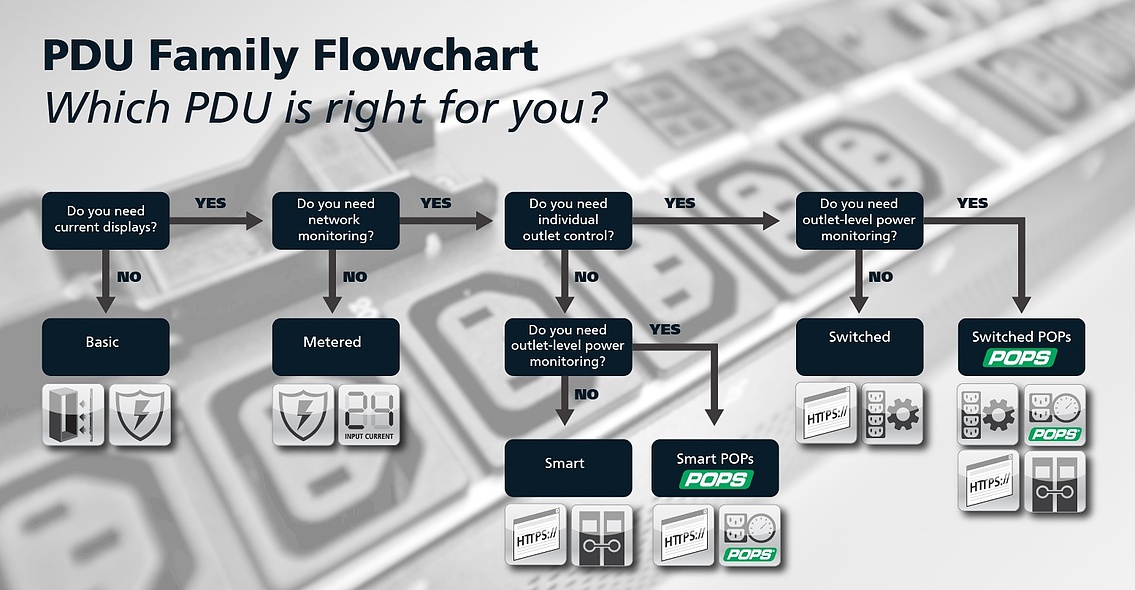 Are you starting a data center project but not sure which PDU is right for your data center? Start here and we'll guide you through Server Technology's PDU families.
At Server Technology, we understand that power needs vary from customer to customer. Some data centers require all-in-one power solutions complete with all the available bells and whistles, while others have more basic needs. But one thing that doesn't vary is the desire for a best-in-class high quality power product. Another thing that's for certain is that Server Technology's award-winning power solutions provide just that.
Sales Engineer Amanda Senger says Server Technology's large selection of PDUs is a major differentiator among its competitors.
"We're really good at one thing: PDUs," Senger says. "We have over 2,000 different part numbers, where our competitors only have 100-200, so we have a lot more flexibility we can offer our customers."
With so many options to choose from, it's easy to become overwhelmed when deciding which power solution is right for your data center. With this in mind, we've created a handy PDU selection flow chart that addresses all levels of power needs – from basic, non-metered PDUs to Switched POPS with outlet-level power monitoring.
It's helpful to first understand that Server Technology offers four main families of PDUs, each offering a unique set of capabilities: Basic, Metered, Smart and Switched. To determine which is best for your data center ask the following questions:
Do you need current displays? If not, then one of our Basic PDUs with power in and power out is probably sufficient for your needs. If you do need current displays with local LEDs on the PDU, you should consider a product from our Metered family.
Do you need network monitoring? If you need an LED but don't want networking capabilities, many products within the Metered family will do the trick. If, however, you want network monitoring, our Smart family of PDUs is a good bet. These are well suited for companies performing remote monitoring as well as those with thousands of strips on the data center floor.
What about individual outlet control? This is a big factor for remote users, allowing them to remotely turn the PDU on and off without having to go on site to unplug and plug back in individual power strips. If you seek individual outlet control but don't need outlet-level power monitoring, you can stick with any of our Smart PDUs, but if you want to monitor each outlet, then the Smart POPS (Per Outlet Power Sensing) PDUs are right up your alley. These units provide very detailed information, letting you know what's wrong – or what's about to go wrong.
For those who want current displays, network monitoring, individual outlet control but not outlet-level power monitoring, the Server Technology Switched family is also worth a look. If, however, you need all of the above, plus outlet-level power monitoring, the All-In-One Switched POPs PDU is probably right for your data center. POPS units are perfect for customers who don't yet understand how much power they're using, and can work in any size data center.
Ultimately, Senger says, there's a solution for everyone with Server Technology's PDU lineup.
"Whether your needs are basic or complex, we offer a solution for you," she says. "Even if you don't need power monitoring, you're probably still going to want a high outlet count in a high-quality PDU."
What Type of Datacenter User Are You?