Blog  ▸ 
Upcoming Trade Shows: Server Technology In Vegas, Manchester, Frankfurt
Upcoming Trade Shows: Server Technology In Vegas, Manchester, Frankfurt
RJ Tee
July 11, 2016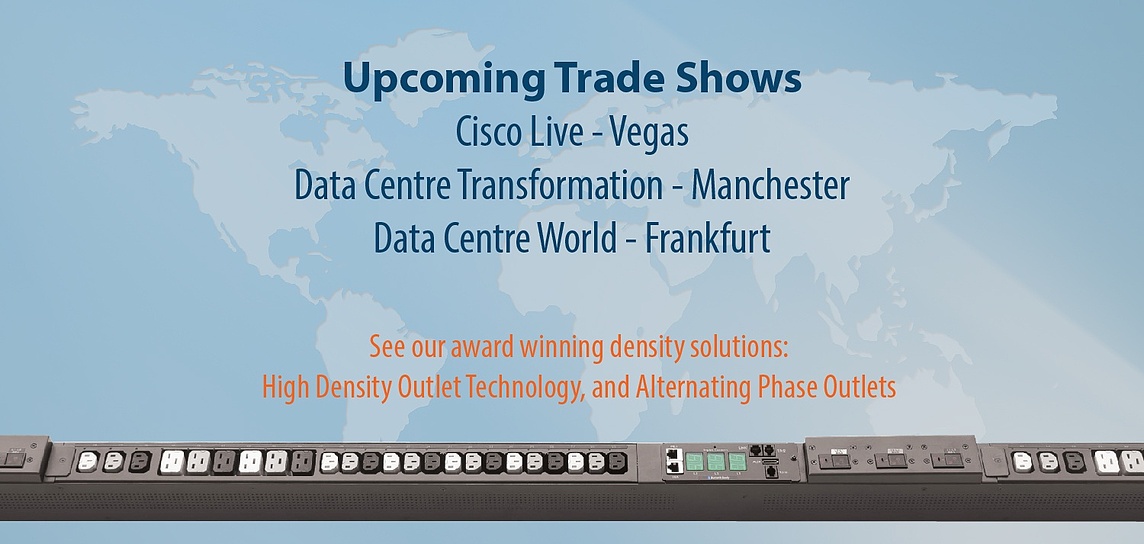 Cisco Live
Billed as "five days of education, networking, and fun," Cisco Live is a major opportunity for networking giant Cisco to show off the latest solutions from 250 of its top partners.
Featuring more than 1,000 breakout sessions, celebrity appearances by actor Kevin Spacey and musical performances from Maroon 5, Cisco Live is a very big deal.
We're proud to announce that Server Technology will be among the attendees at the July 10-14 event in Las Vegas. At the show, we'll be highlighting what goes into our High Density Outlet Technology (HDOT) rack PDUs. Stop by and have a look at our PDUs outfitted with and Alternating Phase Technology, and learn why HDOT provides the highest outlet count in the smallest form factor of any PDU in the market. With these PDUs, true alternating phase outlets alternate the phased power on a per-outlet basis instead of a per-branch basis. This allows for shorter cords, quicker installation, and easier load balancing for 3-phase rack mount PDUs.
Visit us at booth 3335 at Mandalay Bay and say "hi" to our Power Strategy Experts.
Data Centre Transformation
We'll also be on hand for Data Centre Transformation, July 12, in Manchester, England.
This year's show consists of nine workshops across three sessions covering a wide range of topics. The event's goal is to, "reflect the ongoing need for facilities and IT functions to join together to ensure the optimum data center environment that can best serve the enterprise's business requirements."
Industry Specialists, including Server Technology Regional Sales Manager James Giblette, will present findings from Data Centre Solutions and DCA studies. Look for James in Workshop Five, which is all about data center power needs.
Data Centre World
Looking toward fall, Server Technology will make an appearance at Data Centre World from Nov. 23-24 in Frankfurt, Germany. The two-day conference, exhibition, networking gathering, and seminar series focuses on the latest in data center developments and is geared toward European enterprise.
Top Power Tips For Data Center Managers: Part 2