Blog  ▸ 
Three Questions to Ask About Three Phase Power Distribution
Three Questions to Ask About Three Phase Power Distribution
RJ Tee
March 10, 2017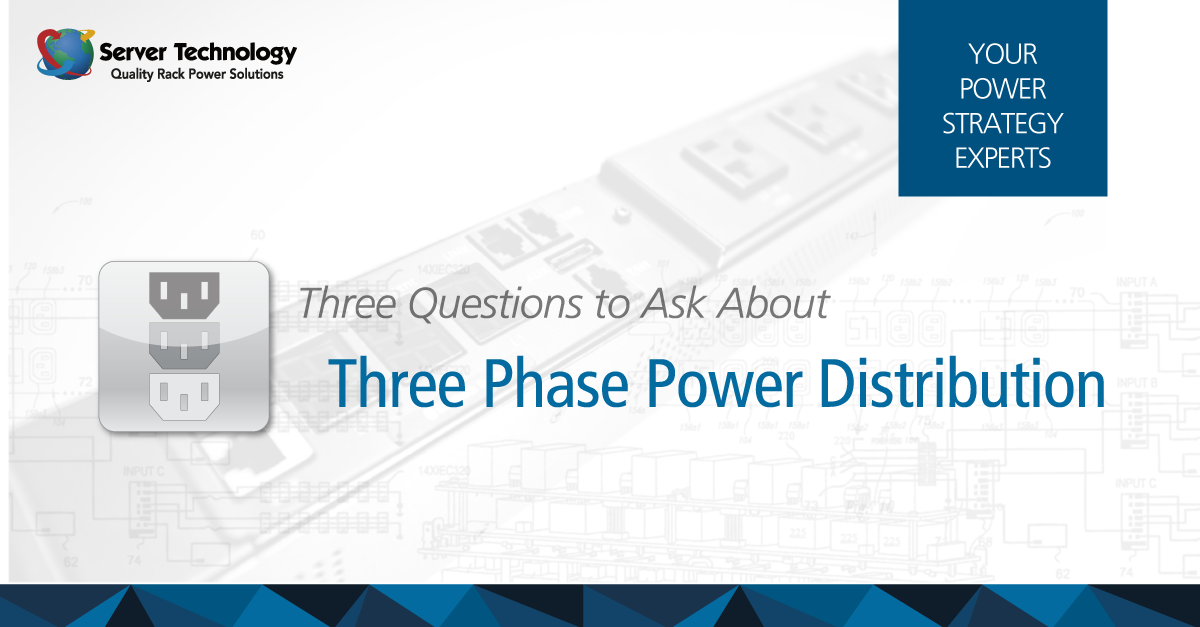 Across the globe, data center managers are making the move to 60A service at the rack level. Why? One big reason is because it better supports higher-density applications. As a result, three-phase power distribution is seeing a boost in popularity. Put simply, it just makes sense for data centers from economic and efficiency standpoints.
A popular choice for those looking to make the move to alternating phase power is the HDOT Switchedpower distribution unit from Server Technology. These rack-mount PDUs simplify time consuming processes such as cable management and load balancing. Offering up to a 30 percent footprint reduction, HDOT PDUs let you install more servers per rack and create a much more efficient flow over standard one- or two-phase power by using three-phase power distribution.
As you weigh your options for power distribution solutions, it's crucial to ask all the right questions. In particular, you should train your focus on the issues of load balancing, its impact on power bills and related power loss.
Questions to ask when considering three-phase power distribution:
Are my phases properly balanced? If all three phases aren't correctly balanced, more heat will be generated. This leads to higher cooling costs.
What's the impact on my power bill? When loads are unbalanced, inefficiency follows, and so do skyrocketing power bills.
Am I running too high of a load on my single phases? This is a risky approach and can result in tripped PDUs and upstream breakers. This leads to power loss at the rack level.
Opting for a switched rack-mount PDU from Server Technology can help alleviate the potential problems of a single- or two-phase load by distributing alternate phased power on a per-outlet basis rather than per branch. And, when you choose an HDOT unit, you're getting the highest outlet count in the most compact form factor on the market.
As densities and power in the racks continue to grow, and as data center managers install more and more gear in the cabinets, it's no secret power requirements are also rising. With an HDOT Switched rack PDU in your corner, you'll not only survive, but thrive when it comes to efficiency and savings.
Experience the Most Game Changing PDU to Date