Blog  ▸ 
Question of the Month: How Can I Ensure Uptime in My Unpredictable Data Center?
Question of the Month: How Can I Ensure Uptime in My Unpredictable Data Center?
Josh Schaap
January 28, 2015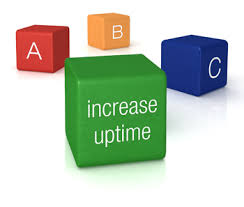 Recently, a lot of customers have been asking us here at Server Technology about maximizing uptime.
Customers want to know: With the multitude of power-related challenges facing data centers today, like unplanned outages; increasing security threats; new, relatively untested technologies such as SDN; and the ongoing threat of natural disasters, is striving for constant uptime a realistic goal or a pipe dream? Many feel that they are fighting a losing battle against this slew of challenges.
Our response is that it's easy to get frustrated with the increasing number of demands facing your data center. But it's also easy to manage power effectively when you have access to a reliable data center power management solution that can provide the following features:
Real-time environmental alerts:

Stay on top of environmental challenges like heat spikes and condensation with advanced temperature and humidity monitoring.
Capacity planning:

See exactly how new infrastructure and technologies fit in with your existing equipment. Capacity planning tools will let you see how much power your equipment is using, and how much room you have left before reaching your ceiling.
Power draw data:

When downtime occurs, you need to be aware of it. Don't let servers and switches fail for extended periods of time without being noticed. Gain advanced power draw information so that you can keep a close watch on your facility at all times.
Remote management:

Make critical power adjustments from any location with remote management. You don't have to be physically present in your data center to oversee your equipment and make key changes.
So, don't get overwhelmed trying to maintain uptime. Get the right technology to ensure it. Server Technology, a leading provider of data center power management software, can help you ensure uptime in an unpredictable environment.
Server Technology Brings Back the 80s