Blog  ▸ 
100 Percent Data Center Uptime from Day One
100 Percent Data Center Uptime from Day One
RJ Tee
January 14, 2016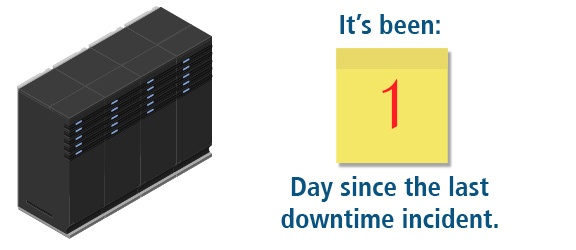 You already know that increased uptime means a greater ROI, but can you ever achieve 100 percent uptime from the get-go? You can, indeed, as our work with ScaleMatrix shows.
ScaleMatrix seeks to set itself apart from the pack of cloud/colocation providers in the marketplace. The San Diego-based company provides a variety of hosting platforms and services to help companies connect workloads across development, production, and disaster recovery environments. When ScaleMatrix set out to create a new type of multi-tenant data center, its team chose Server Technology to assist with its most pressing issues.
The company needed:
Reliable rack power distribution
Constant visibility to all available power data
The most accurate and reliable PDUs
On top of that, ScaleMatrix needed guaranteed 100 percent data center uptime from day one. No problem, we said.
ScaleMatrix's project called for Server Technology's Sentry Power Manager for power monitoring and management and the Sentry Switched 24- & 48-Outlet Rack PDUs, which are custom designed for ScaleMatrix custom racks.
"In a facility like this, there are so many moving parts, like PDUs, and they just need to work," said ScaleMatrix CSMO and Co-Founder Chris Orlando. "It needs to be flawless."
And flawless it was.
With the SPM and Sentry Switched PDUs in place, ScaleMatrix has been able to provide zero downtime to clients in its San Diego and Houston facilities for the past three years running. Using the Sentry Power Manager, ScaleMatrix provides customers with a single screen dashboard that allows them to drill down into their gear and to the PDU level in real-time, Orlando said.
The SPM has also given ScaleMatrix's clients useful data such as real-time power monitoring, predictive trend analysis, PDU management as well as security monitoring and reporting.
Orlando also praised Server Technology's Power Strategy Experts for quick responsiveness and a proactive approach to the partnership.
"They've allowed us to reach new heights," he said. "It's allowed us to minimize overhead from a cost and management standpoint by providing a better value and product offering for our customers with more features and more flexibility."
Is Capacity Increasing in High Density Data Centers?