Blog  ▸ 
Upgrade Your Power Distribution With HDOT Alternating Phase PDUs
Upgrade Your Power Distribution With HDOT Alternating Phase PDUs
Annie Paquette
August 22, 2014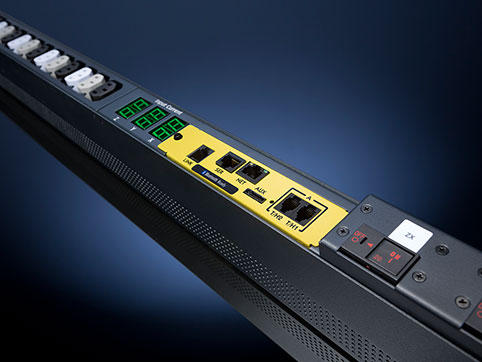 Challenge: Right now data center power consumption is on the rise in North America, as the number of racks increased by 9.1 percent in Canada and 4.3 percent in the U.S. in 2013. All signs are showing this trend continuing through 2014 and beyond as data centers standardize on high-density equipment to achieve more processing power in a smaller space.
As power requirements increase, data center managers everywhere are looking for ways to deliver more power to the computer cabinet in a cost-effective way. One way they are accomplishing this is by upgrading their power distribution units to 3 phase.
Why are three-phase systems more cost efficient? A single-phase power cord contains three wires. A three-phase delta power cord contains four wires. For that one additional wire, three-phase delta delivers 52% more power than a single phase. But it doesn't come without risks.
Thankfully, Server Technology makes it easy and risk-free for you to migrate to 3 phase power distribution with its new line of alternating phase power distribution units (PDU). These PDU's alternate the phase pairs on a per-outlet basis instead of a per branch basis.
In addition, Server Technology has incorporated its patented High-Density Outlet Technology (HDOT) into the Alternating Phase PDU's, resulting in the maximum achievable number of outlets in the smallest form factor PDU. This provides flexibility when it comes to supporting the myriad array of IT equipment in the rack.
Here are some major benefits HDOT Alternating Phase PDUs can provide:
Phase Balancing simplified: The inherent design of Server Technology's Alternating Phase PDUs simplifies the task of balancing equipment loads across the multiple branches of the PDU. The alternating phase outlet arrangement allows a simple 'top-down' deployment of the equipment connections to the PDU, resulting in minimal cord runs, which de-clutters the back of the rack and improves airflow.
Less chance of power overload: Unbalanced branches can result in a circuit breaker trip during a failover event. Alternating phase PDU's minimize the chance of running with unbalanced loads due to the ease of balancing.
Data Center Power Efficiency: Large Phase imbalances in the data center can lead to voltage and current distortions on the individual phases, increased heat dissipation, and reduced equipment life. Phase balancing in the data center starts at the PDU. Alternating Phase PDUs simplify the phase balancing challenge.
More Outlets in a Smaller Space: Taller racks with smaller footprints push the need for smaller, denser PDUs. Server Technology's HDOT provides the highest outlet density of any network PDU on the market.
Want to learn more? Click here to read the Server Technology solution for density in the data center.
Server Technology Wins a TMC 2014 infoTECH Spotlight Data Center Excellence Award