Blog  ▸ 
Colovore Tip 3 – "Real Life" Heat ratings in an HPC environment
Colovore Tip 3 – "Real Life" Heat ratings in an HPC environment
Isaiah LaJoie
February 16, 2021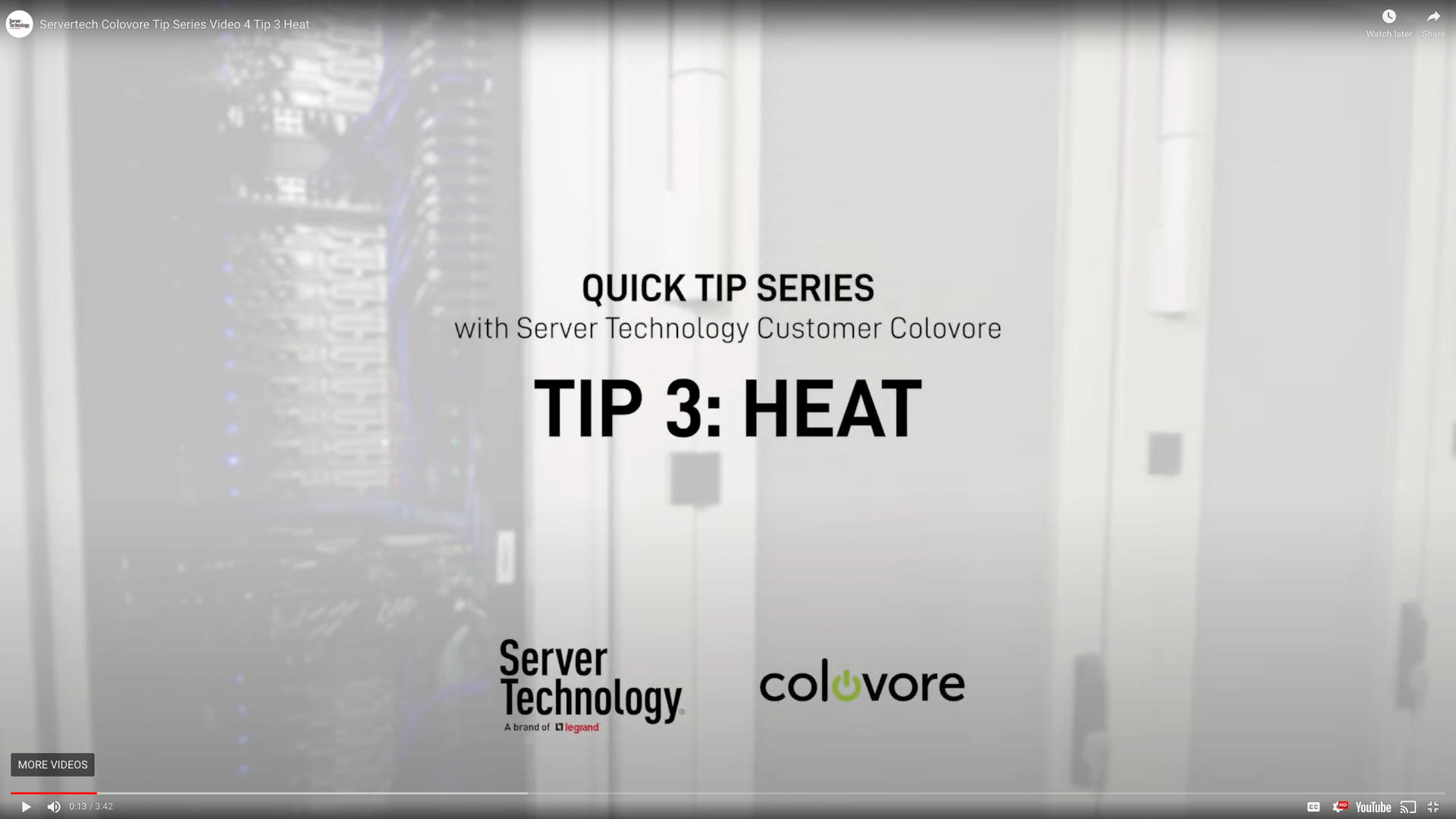 In a new Server Technology video series, Marc Cram leads a series of conversations with Peter Harrison, CTO of Silicon Valley colocation provider Colovore. They discuss the challenges of being on the front lines of today's high-performance computing (HPC) and artificial intelligence applications. As a colocation provider that specializes in these types of applications, Colovore addresses power and cooling density challenges on a daily basis.
One of the byproducts of a 35 kW/rack computing environment is a rather unique set of cooling and heat rejection challenges. To put this into context, 35 is the approximate maximum kW consumption of 15 homes, minus cooling. The folks at Colovore can't simply prop up a box fan at the door and call it a day.
Ironically, one of the things that is unique about the operating environment at Colovore is that they use rear-door heat exchangers to take care of waste heat. Instead of a more traditional cold aisle/hot aisle delivery method, the majority of cooling effectively takes place at the back of the rack, and after waste heat has been rejected from the server. In a conventional cooling environment, colder air is presented at the front of the rack, and thus the operating temperature at the rear of the cabinet has already been reduced.
Peter Harrison comments, "the temperatures within the cabinet, just prior to going out the door, can be extremely high: quite often in the 60 to 65 degree Celsius (140 to 160 F) range. As a result of that, we are seeing very unpredictable loads from many of our customers. A customer may triple or quadruple their power, up to the fully rated capacity of a PDU within a matter of minutes, if not seconds."
This means that living conditions for a rack PDU in Colovore's data center are less than optimal. In a real way, Colovore simultaneously tests the maximum capacity of PDUs as well as their ability to support that rated capacity within extremely hot operating environments. They have to be careful about the products they recommend to their customers, and what they select themselves. The Server Tech PDU product line meets those stringent requirements, "without question, and is very rock-solid" in its performance, according to Harrison.
"We really test the units to their peak. This is not a laboratory experiment; this is real life."
Listen to Marc and Peter's conversation for more details about the role that Server Tech three-phase PDU(s) play in the management of high-density AI and HPC applications.
Check out our previous tip to learn why HDOT Cx helps support "power choice", or even our shameless plug. If this is your first Colovore tip, start from the beginning learning about "Beefy PDUs".
In our next blog, we will discuss the final video in the series, 'Air Flow Management in a High-density Environment'.
Colovore Tip 4 – Air flow management in a high-density environment