Blog  ▸ 
Summary: The New "Renewable Energy in the Data Center Industry" White Paper
Summary: The New "Renewable Energy in the Data Center Industry" White Paper
Annie Paquette
July 09, 2019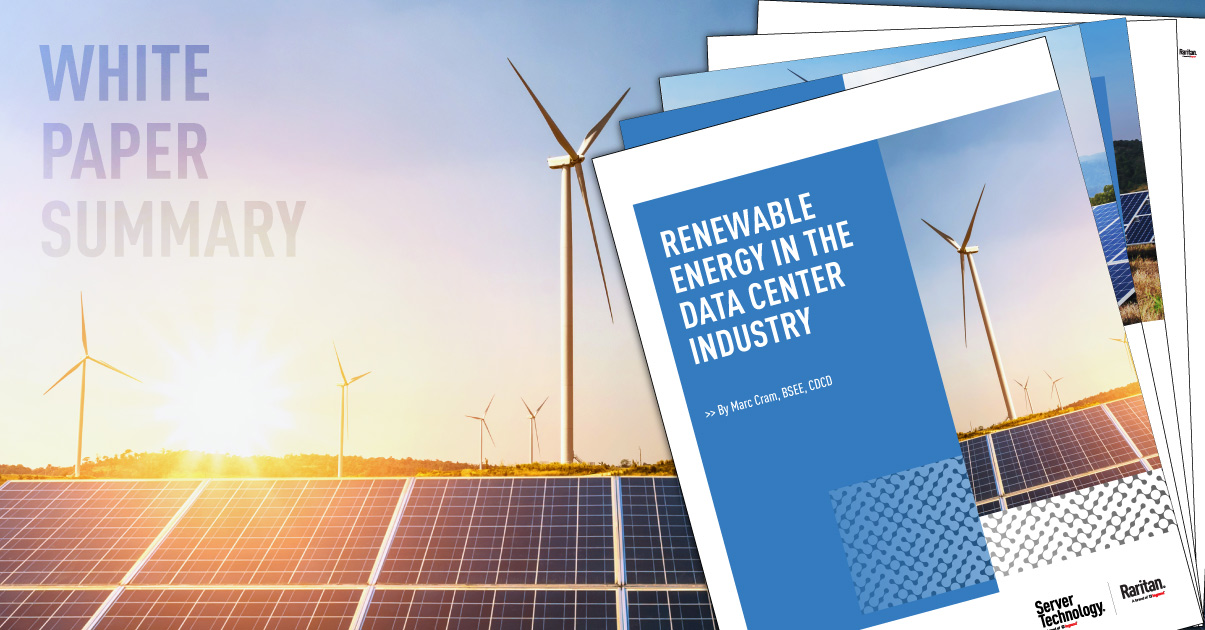 Some estimates predict that data centers will consume one-fifth of all the electricity produced worldwide by 2025. This in and of itself is a staggering number. In Server Technology's newest white paper, "Renewable Energy in the Data Center Industry," Marc Cram tackles the ongoing issue of energy efficiency in the data center, and the role of renewable energy in helping companies met their energy savings goals.
In order to control their own destinies, the major developers of data centers are committing to building renewable power generation facilities along with their data centers. This commitment reduces the strain on the local utilities while helping them meet local, state, and federal requirements for renewable energy production. Despite the fact that many of the alternative energy production technologies initially produce DC power, AC power is still being delivered to the IT racks and rack mount PDU(s) within the data center. Marc's latest white paper, "Renewable Energy in the Data Center Industry," explores both the short and long-term effects that renewable power sources have on data center architectures.
Here is an executive summary of the research found in this paper:
The US energy industry has historically struggled to find a cost-effective, renewable source of energy. Nuclear energy was once seen as the clear successor to coal for domestic electricity generation in the US, but a series of mishaps over the years has delayed, perhaps permanently, the widespread adoption of nuclear power.
Solar power was first considered as a potential alternative to carbon-based sources of energy in the 1970s. Until recently, the cost per kWh has had difficulty reaching parity with power from coal, oil, and natural gas.
Over the last 18 years, the US Energy Information Administration has noted slow but steady progress in the share of energy consumption by renewable energy sources. The most recent data, published last year, shows renewables providing 11% of the energy consumed in the US.
The advent of new technologies has led to the need for a growing number of data centers to store, process, and deliver the immense streams of data continuously flowing around the world. This growth in the number and scale of data centers has, at times, strained the power grid.
Forward-looking companies have begun taking responsibility for generating their own power to run their data centers. By doing so, they gain control over their ability to grow without becoming dependent on taxpayers and public utilities for powering their data centers.
How did large data center users adopt renewable energy, and how did that recent adoption impact data center design? What does that mean for the future, and where are we headed? You guessed it – you will need to download a copy of "Renewable Energy in the Data Center Industry" to get all the details. Marc Cram's white paper provides a history of the relationship between power and the data center that will shed light on the future of data center building and design.
The History of HDOT: How It All Started