Blog  ▸ 
Server Technology's (Recent) Award-Winning History, Part 1
Server Technology's (Recent) Award-Winning History, Part 1
Annie Paquette
May 29, 2019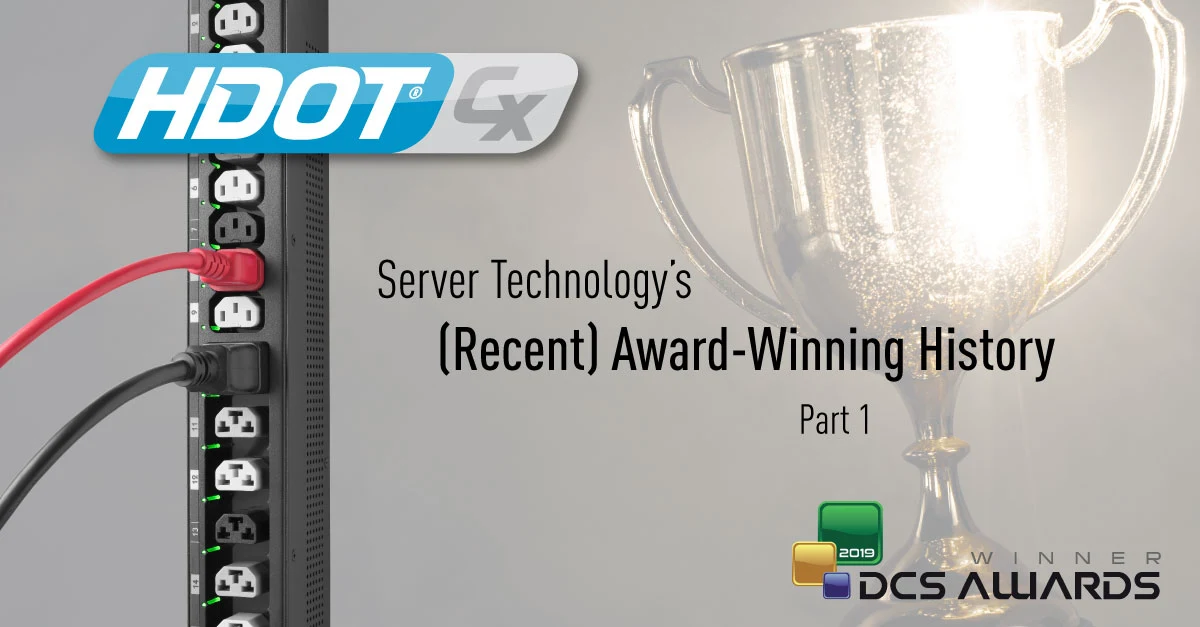 Before we get to the recent announcement of being named a finalist for this year's Data Center Dynamics Product Innovation award for our Rack PDU's, we thought it might be worthwhile to put the recent recognition in its historical, award-rich context.
Dating back to 2014, Servertech has enjoyed a winning streak of DCS Awards, an honor awarded by the Data Centre Alliance (DCA). The DCA, a UK-based organization, is a non-profit trade organization that supports owners and operators of data center facilities. The group is comprised of more than 450 leaders, experts, and operators of critical facilities. It is an independent trade organization whose goal it is to provide independent, trusted information about the benefits of adopting best practices, and about the products and services available to the data center manager.
The DCA provides recognition for outstanding products, and it is here that Server Technology's products have gained a reputation. According to the DCA website, these awards, known as the DCS Awards, "are designed to reward the product designers, manufacturers, suppliers, and providers operating in <the> data center arena. The Awards recognize the achievements of the vendors and their business partners alike."
And when we say 'reputation,' we mean a good one:
In 2014, Server Technology was recognized as the 2014 Datacentre Management Product of the Year, edging out the Belden ProPatch for the top honor. We earned the same recognition the following year, yet again capturing the 2015 Datacentre Management Product of the Year Award. These awards were significant because they heralded the beginning of rack PDU based monitoring and control. The awards were presented based on our ability to support mass configuration, simplify capacity planning, and ability to generate custom views so that each user could quickly access relevant data to maximize the management of their data center power.
In 2016, it was HDOT's turn to take the stage, albeit in a different category. While Sentry Power Manager had dominated the Management Product category, it was HDOT that allowed Server Technology to capture the 2016 Datacentre PDU Product of the Year, DCS's top category. Amongst the accolades, Switched and Smart POPS version of HDOT was recognized for being the smallest form factor PDU for managing the placement of 42 outlets in a single vertical unit.
And although 2017 wasn't Server Technology's best DCS showing, it returned in 2018 with its Alternating Phase Technology to win the 2018 Datacentre PDU Product of the Year. Alt Phase was recognized as a market leader: over 42,000 units shipped at the time of the award. It was also recognized for its modular design, with over 1,000 unique plug configurations available. It was also noted to be cost-effective: alternating phase allows users to lower cooling costs and simplify their cable inventory.
So what about 2019? We are off to a record start. Server Technology's new HDOT Cx outlet technology is already making waves in the product awards arena. In case you are not familiar, The Cx outlet is a UL-tested hybrid outlet that can function as either a C13 or a C19 outlet. All HDOT Cx modules utilize Cx outlets that can accommodate either a C14 or C20 cord, which can plugin without the need for additional parts or adapters. This new technology garnered recognition in the German Data Center Award's 'Innovation in the Whitespace' category. The new HDOT Cx is also the freshly minted winner of the DCS 'PDU Innovation of the Year' Award, presented during a ceremony that took place in London on May 16th. Not a bad start to the 2019 Awards season.
While we can market ourselves as innovative, it is another thing to be recognized as such by many of the organizations that look for achievement in this arena. Maybe you're not so impressed with awards, but you will surely be moved by our commitment to flexible, reliable solutions.
Server Technology's (Recent) Award-Winning History Part 2