Blog  ▸ 
Our Hot New 'How to ZTP' Video
Our Hot New 'How to ZTP' Video
Posted by RJ Tee on July 23, 2018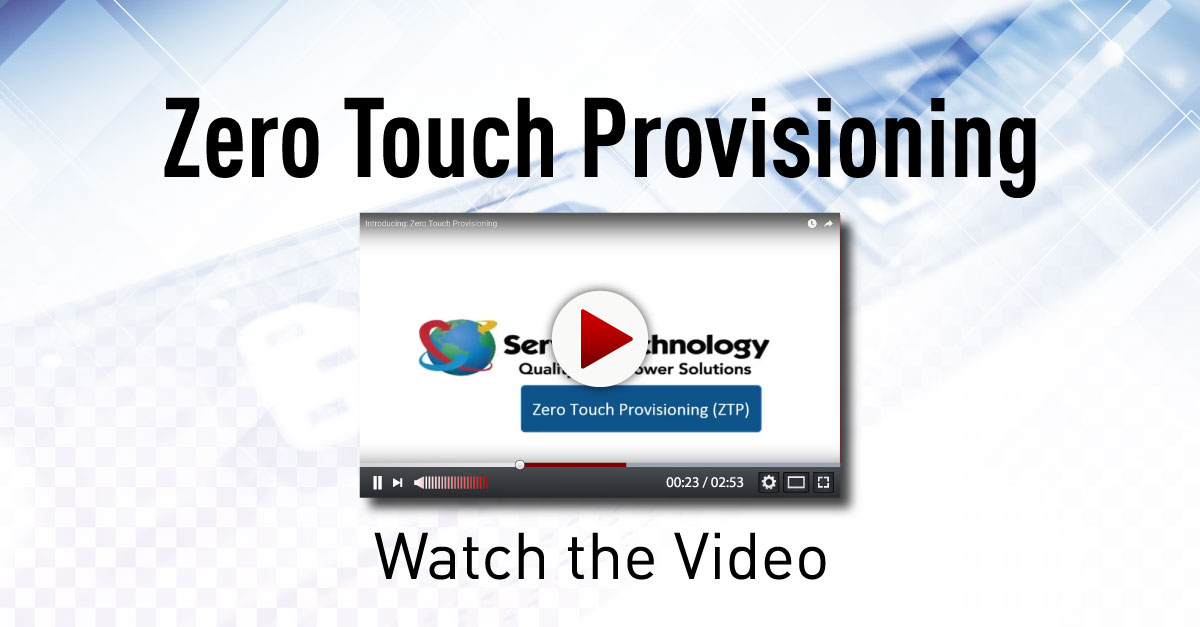 Do you know how to ZTP? If not, don't worry. We have recently posted a YouTube video to show you how.
ZTP, or zero touch provisioning, is the methodology that allows you to make configuration changes to key data center services without interruption or the need to go on the data center floor itself. All configuration changes are completed online and over the ethernet cables that connect your Server Technology rack PDUs (power distribution units) to a core server. As an example, you may want to reconfigure settings when there are software updates, or you need to make changes to user permission profiles.
Configuration provisioning is a simple affair, as the term 'zero touch' implies. That said, it is not a hands-free methodology, and some human engagement is required. The 'zero human' update is still in research and development, and we have word that the release date for this technology is still at 'an undetermined future date.'
Until then, let's discuss how to ZTP. Before you start the provisioning process, it is important to make sure that you are using a PRO1 or PRO2 version of our PDUs.
The six-step process couldn't be simpler. This is it in a nutshell:
Assign a DHCP and TFTP server
Download the STIC configuration file
Determine the configuration
Load the configured STIC file to the TFTP
Configure the DHCP server options
Power up your PDUs and connect them to the network
Now you know how to ZTP.
Really, the benefits of Zero Touch Provisioning are many. You can update more than one PDU at a time, and reduce all the errors that can happen in a manual configuration process. There is also avoiding the monotony of keying the same data over and over, which means you have more time to play chicken with the EPO switch.
We're kidding on that last one, really. Just want to make sure you are paying attention.
Server Technology is indeed your Zero Touch Provisioning PDU expert. Take a peek at the how-to video, or head to our website to download the ZTP white paper and technical note.
The Big Decision: Selecting Smart vs. Switched Data Center PDUs