Blog  ▸ 
HDOT Cx in the Realm of Great Ideas: Part 3
HDOT Cx in the Realm of Great Ideas: Part 3
Annie Paquette
October 05, 2018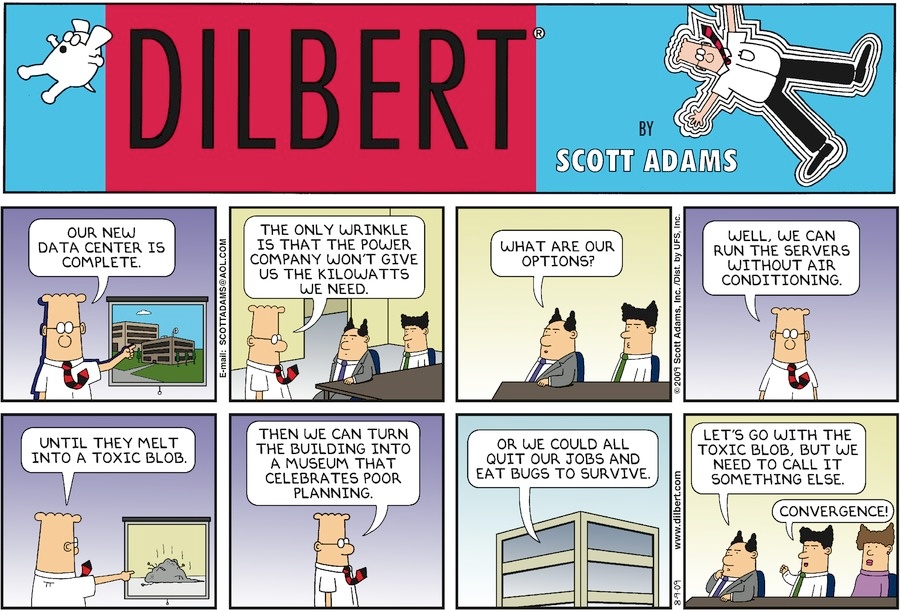 Leave it to Dilbert to remind us that the collective human effort known as corporate doesn't always generate the best ideas when it comes to your data center. Not to worry: Server Technology's data center power distribution units, from single phase to three-phase PDU(s), always have your best interests in mind.
Take the newly launched HDOT Cx, for example. The new Cx outlet design provides 2 outlets in 1, which not only solves the ongoing issue of density but also provides future flexibility to swap out IT gear without swapping out your rack PDU(s).
We also invite you to design and build your own PDU without fear of being enshrined in Dilbert's Museum Celebrating Poor Planning. Just the opposite: we know the path to ultimate data center flexibility is paved one rack at a time, which is why we put the decisions in your hands:
You choose your type of rack PDU.
You select the volts and amps that fit your application.
You pick the plug and outlet types and get bonus points for selecting some of the new Cx outlets.
We provide a downloadable data sheet and request for quote. You take it from there.
To build your own HDOT Cx PDU, head to the BYOPDU tool on the Servertech website. At Server Technology, we create great ideas to help our customers Stay Powered, Be Supported and Get Ahead.
DILBERT © Scott Adams. Used By permission of ANDREWS MCMEEL SYNDICATION. All rights reserved.
SpiceWorld 2018