Blog  ▸ 
Dominic Toretto on the Fast, Flexible HDOT Cx
Dominic Toretto on the Fast, Flexible HDOT Cx
Annie Paquette
August 02, 2019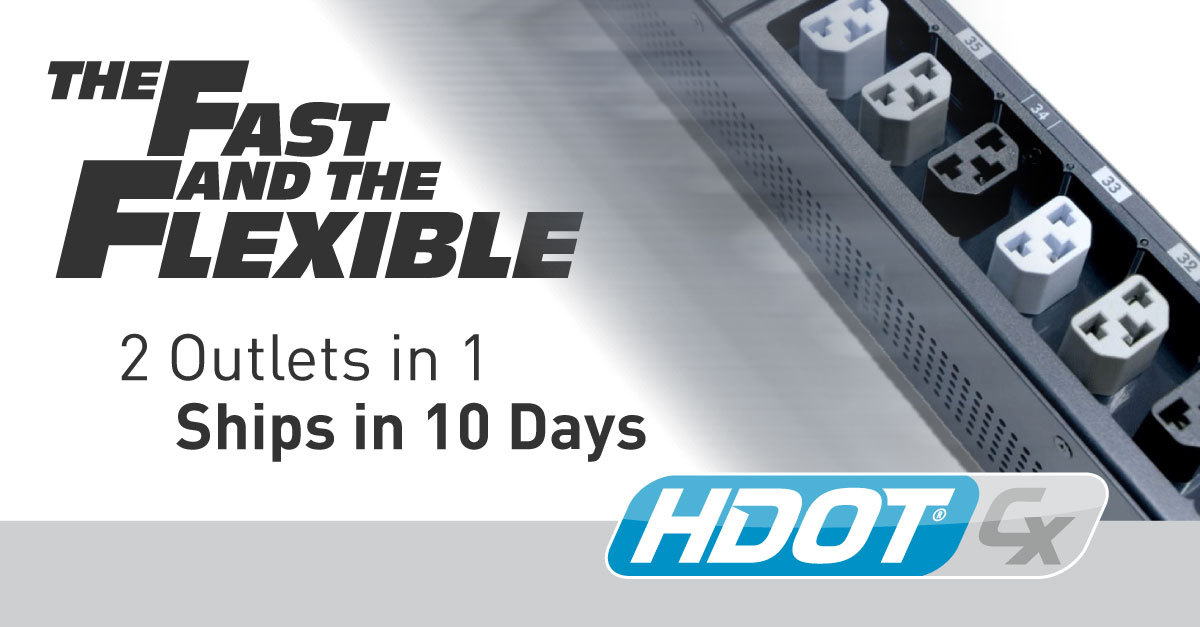 At first glance, Server Technology's 'The Fast and the Flexible' promotion campaign for the smoking hot HDOT Cx Rack Mount PDU seems like a ploy to capitalize on the success of 'The Fast and the Furious' movie franchise's 'Hobbs and Shaw' spin-off. It may also be a clever tie-in to this month's announcement that production has started on a record 9th installment of the movie series. Would Server Tech's marketing department attempt a shameless summer-movie promotional tie-in to a product that helps power the most serious of critical electrical loads around the world?
Well, yes, we are going to try.
That said, you do NOT need to worry about running into an HDOT Cx Big Gulp cup at your local 7-11, or a tiny rack mount power distribution unit in your child's next Happy Meal. Fortunately, Server Tech has actually drawn the line with its summertime promotion of the Cx. But since the selection of 'The Fast and the Flexible' may leave some of our readers nonplussed, we wanted to offer this blog as an explanation of the reasoning behind the marketing logic.
In fact, we thought it best to offer up this explanation using the words of Hollywood's king of the one-liner, Dominic Toretto.
"You know this ain't no 10-second race." You'd better believe it, and the HDOT Cx is proof positive that Server Tech's parent company Legrand is in it for the long haul. The continued investment in the HDOT rack PDU platform demonstrates that they are looking to build a franchise of the mission-critical variety. Could HDOT match 'The Fast and the Furious' global sales record of $5 billion in revenue? One can hope.
"It doesn't matter whether you win by an inch or a mile, winning is winning." Server Technology knows that winning is winning, particularly in the context of its mission to make sure its customers are staying powered, being supported, and getting ahead. HDOT Cx and HDOT PDUs are also the recipients of multiple industry awards including just recently in 2019 the best PDU award from Datacenter Solutions.
"I live my life a quarter-mile at a time. Nothing else matters; not the mortgage; not the store; not my team and their shenanigans (this isn't exactly what he said but corporate approved). For those 10 seconds or less, I'm free." And what greater freedom is there than being future-ready for equipment changes and updates? Having the flexibility to power new equipment with the same PDU means that you don't have to worry about an unwanted adrenaline rush on your next project. We live life a quarter-mile at a time so you don't have to.
'The Fast and the Furious' comparisons aside, we here at Server Tech do take the speed and adaptability of our products seriously, without the accompanying fury that often seems to plague many moves, add and change projects. You can keep your cool this summer by checking out the many ways our HDOT Cx and HDOT PDUs keep you in the fast lane here.
Satisfying Two Data Center Optimization Metrics with One Tool