Blog  ▸ 
All-In-1 Converged Power for Converged and Hyperconverged Systems
All-In-1 Converged Power for Converged and Hyperconverged Systems
RJ Tee
February 03, 2016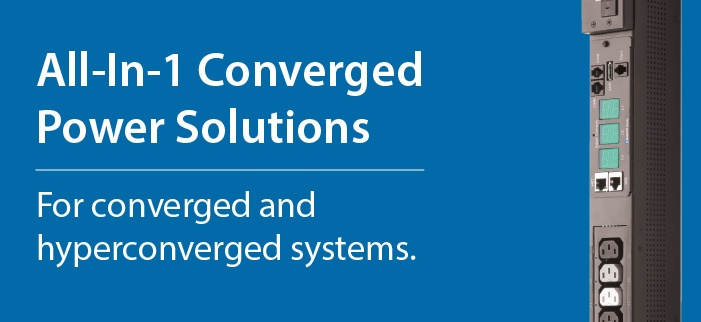 Working as a data center IT professional is not unlike juggling chainsaws: there's little room for error and a mistake could lead to disaster. While most data center IT pros are smart enough to stay away from flying power tools, they are tasked with juggling uptime, reliability, performance, and efficiency. And the stakes are high.
The key to maintaining this difficult balance comes from knowing how to choose both hardware and software to find that elusive "sweet spot." Adopting converged or hyperconverged systems in combination with "All-In-1" power solutions is a tried and true path to never dropping another metaphorical chainsaw in your data center.
A 2013 report from International Data Corporation highlighted that thanks to virtualization, data centers are shifting more toward converged infrastructures. The report concluded that "the infrastructure management challenge has increased" and that "IT departments now spend three quarters of their time and resources maintaining the environment and less than a quarter on value-added activities." The paper pointed to the inevitable rise of convergence in data centers, which we're now seeing happen in real-time (http://it.toolbox.com/blogs/itmanagement/whats-driving-the-adoption-of-converged-infrastructure-59330).
Server Technology's all-in-1 converged power solutions provide data centers with that perfect balance of form factor, power density, outlet density, and features in rack-level power distribution units. With the Switched HDOT Pro2 PDU from Server Technology your IT team will enjoy the following benefits:
Power path redundancy

Secure and reliable remote management

1U, 2U, 0U PDU form factor

Power density

Outlet density

Easily-balanced loads

Cost savings

Ability to expand

Environmental monitoring, trending

High availability to your data

Monitoring of rising loads

Proactive power supply management

Future success planning
At Server Technology, our power strategy experts have provided solutions to data centers, labs, branch offices, and Telecomm operations for three decades. Years of research and development by our unmatched team of engineers has resulted in products like the HDOT Pro2, which you can demo online today. Connect with one or take a look at the Pro2's data sheet and learn more about how Server Technology can help you Stay Powered, Be Supported, and Get Ahead.
Remote Data Management and Reporting is the cornerstone of reliability