Server Technology's HDOT Rack Mount PDU Named 2018 Product of the Year
RENO, Nev., May 30, 2018 (GLOBE NEWSWIRE) -- Server Technology, a brand of Legrand and a leading provider of intelligent Rack Power Distribution Units a.k.a. rack PDU(s), today announced that its High Density Outlet Technology (HDOT) Rack PDUs with Alternating Phase outlet technology has been named a 2018 DCS Awards winner for Data Centre PDU Product of the Year. Continually, DCS Awards judges have singled out the company's server rack power strips for unique benefits--above and beyond standard rack mount PDU solutions - this year marks the fifth year in a row Server Technology has won an award.
The DCS Awards, in association with DataCentre Solutions magazine, are designed to acknowledge product designers, manufacturers, suppliers and providers operating in the data center arena. For this year's awards, Server Technology's patented Alternating Phase outlet technology on the HDOT PDUs, stood out from competitive offerings for its 3-Phase PDU cable management and ability to distribute phased power on a per receptacle basis. The innovation was hailed for providing shorter cable runs that result in better airflow, easier load balancing, and overall greater efficiencies.
According to Jeremy Foroszowsky, Director of Manufacturing Operations and Logistics at Server Technology, "Everything in the data center is being condensed and there is a never-ending need to fit more into each rack and improve overall efficiencies." Server Technology is addressing this concern with their innovative HDOT PDU that offers maximum density and power, in a smaller form factor that conserves rack space.
However, a large part of the HDOT's true innovation resides within the 10-day customization process. Foroszowsky continues, "Server Technology listens to the needs of our customers, that's why we've aligned our manufacturing and planning processes to ensure we have the right material in-stock to support the configuration requirements of our customer while always maintaining the highest quality standards. The net result is a superior PDU, that can be custom built via our Build Your Own PDU configurator and shipped in just 10 days. Nobody else is able to provide this level of customized power density to serve individual data center rack requirements."
In addition to 2018 Product of the Year, DCS Awards named the company:
2017 "Individual of the Year" DCS Award for VP of International Sales, Marc Marazzi
2016 "Data Centre PDU Product of the Year" DCS Award for HDOT
2015 and 2014 "Data Centre Management Product of the Year" DCS Award for Sentry Power Manager (SPM)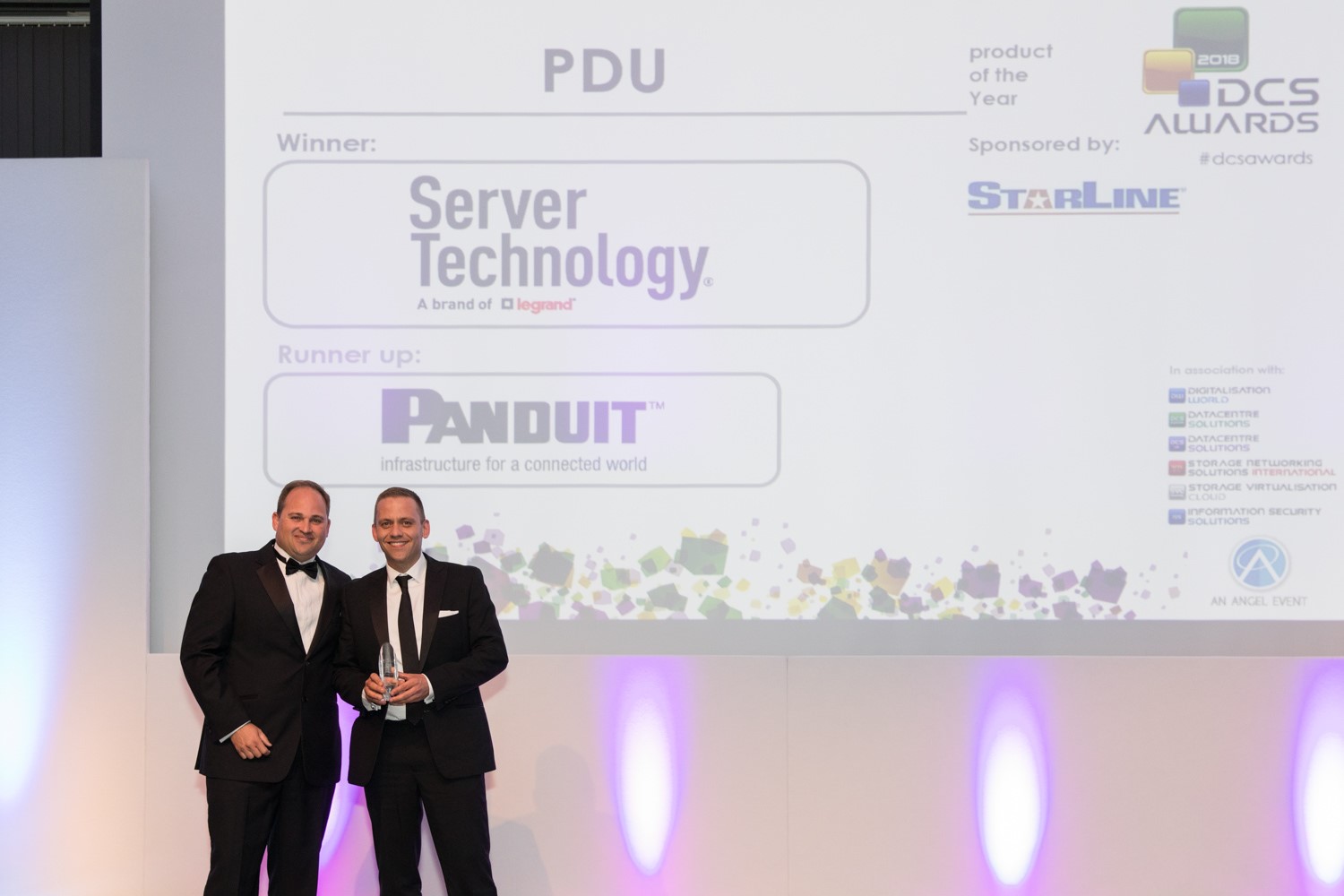 "Achieving optimal data center power management is the goal of every facility and IT manager," said James Giblette, Regional Sales Manager for Server Technology. "Unfortunately, traditional PDU offerings make this an elusive and often complicated goal, because every deployment is different. Server Technology continues to address this issue by enabling customization so that PDUs are tailored to individual rack needs. We are proud to offer a preferred method for optimizing data center power and honored that the DCS Awards continues to recognize our solutions as the best in the industry."
For more information please contact info@servertech.com or visit www.servertech.com.
About Server Technology
Server Technology's power strategy experts are trusted to provide Rack PDU solutions for demanding data centers worldwide ranging from small technology startups to Fortune 100 powerhouses. Over 60,000 customers around the world rely on our rack power distribution units to increase density, facilitate capacity planning, improve power monitoring, and drive efficiency. Because power is all we do, you will find us in the best cloud and colocation providers, forward thinking labs, and telecommunications operations. Server Technology customers consistently rank us as providing the highest quality PDU(s), the best customer support and most valuable innovation. Let us show you; we have over 12,000 PDU configurations to fit every data center need and our PDU(s) are shipped within 10 days. Only with Server Technology will customers Stay Powered, Be Supported and Get Ahead. www.servertech.com
About Legrand and Legrand, North and Central America
Legrand is a global specialist in electrical and digital building infrastructures. Its comprehensive offering of solutions for use in commercial, industrial, and residential markets makes it a benchmark for customers worldwide. Innovation for a steady flow of new products with high added value is a prime vector for growth, including, in particular, connected devices stemming from Legrand's global Eliot (Electricity and IoT) program. Legrand reported sales of $6.2 billion(USD) in 2017. Legrand has a strong presence in North and Central America, with a portfolio of well-known market brands and product lines that includes AFCO Systems, C2G, Cablofil, Chief, Da-Lite, Electrorack, Finelite, Luxul, Middle Atlantic Products, Milestone AV, Nuvo, OCL, On-Q, Ortronics, Pass & Seymour, Pinnacle, Projecta, QMotion, Quiktron, Raritan, Sanus, Server Technology, Solarfective, Vaddio, Vantage, Wattstopper, and Wiremold. Legrand is listed on Euronext Paris and is a component stock of indexes including the CAC40, FTSE4Good, MSCI World, ASPI, Corporate Oekom Rating, and DJSI (ISIN code FR0010307819). www.legrand.us