Blog  ▸ 
The Power of Smart Cities
The Power of Smart Cities
Annie Paquette
August 26, 2019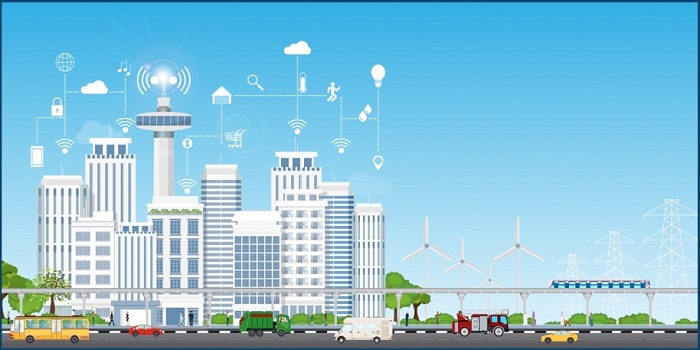 According to data from the U.S. Census Bureau (http://www.census.gov/newsroom/press-releases/2015/cb15-89.html) a total of 10 U.S. cities have a population that has surpassed the 1 million mark. Of these 10 cities, California and Texas account for 60%, with each state being home to three cities each that have a population of over 1 million. In addition, PRB's data on human population states that 54% of all people globally live in cities, with that figure expected to reach 70% by 2050.
With all this growth, modern cities are struggling to maintain — not to mention improve — their citizens' quality of life. To feed this need, city planners have aggressively pushed for improving the energy efficiency of everything that is plugged into the city's electrical grid. Street lamps are migrating from mercury vapor to LED; appliances are required to be Energy Star-rated; offices are required to turn off their lights when not occupied, and thermostats are set to higher temperatures to reduce the energy demands from air conditioning systems.
Energy consumption is tied to population growth, and a study from McKinsey Global Institute confirms that 100 cities will generate 45% of consumption growth (energy included), and just 32 of them will account for a quarter of the global total ($23 trillion) over this 15-year time span.
Furthermore, Fast Company wrote, "As of 2014, midtown Manhattan (New York) used more power daily than did the entire country of Kenya," and U.S. News* reported that one of the first tools to be deployed by the cities are "smart grids" wherein electrical meters can be remotely read and have the ability to shed (turn off) excessive loads at times of peak demand. Clearly, power consumption is a big concern within large, densely populated areas.
Needless to say, "smart grids" power "smart cities." A cooperative effort between city governments and private enterprises is leading cities to adopt the goal of becoming "smart." While the definition of a smart city depends on who you ask, the common understanding seems to be that a smart city provides for the real-time monitoring and control of the infrastructure and services that are operated by the city, thereby reducing energy use, reducing pollution, improving public safety, and improving the quality of life for its citizens and visitors.
Peering deeper into smart cities, it's easy to see that they require vast arrays of widely distributed sensors and control devices dispersed throughout. In turn, both wired and wireless networks are deployed to join the sensors and control systems together. These systems gather, store, and process data and then widely distribute the distilled information in a timely fashion to the point(s) at which the information can be acted upon or consumed. Edge-computing infrastructure handles time-sensitive applications and data aggregation, while private and public cloud infrastructure provides general-purpose utility computing, big-data analysis, and long-term information storage.
Putting the "smart" in a smart city
The good news for a smart city's power bill is that today's microprocessors and microcontrollers power smart devices to give a city its "intelligent" label cost pennies apiece and deliver wireless connectivity over a wide range of distances and bandwidths. Engineers design these devices into an ever-growing range of applications that provide measurement, monitoring, and control capabilities found in products and services contained within the city's borders. When combined with the appropriate sensors and power source, these microcontrollers deliver a constant stream of data that is collected and analyzed to deliver actionable intelligence.
Some of these smart city sensors can now be found in:
• Building health (accelerometers, strain gauges, and tilt sensors that detect settling, wind, and earthquake effects)
• Facial-recognition systems
• Parking sensors that identify open parking spaces
• Carbon dioxide and monoxide detectors
• Seismic sensors
• Gutter and street flood detectors
• Flow rate sensors (inside individual pipes)
• Trash and recycling bin status sensors
• Proximity detectors
• Crosswalk activity sensors
• Metal detectors
• Pressure sensors
Smart cities and the IoT economy
These types of networking technologies require gateways, switches, or routers to be in close proximity to where the sensors are deployed. Depending upon the application, some of the sensors may be deployed in a time-sensitive control application. This means that they may be distributed throughout the urban environment in edge or fog computing deployments. These systems operate unattended and frequently report up through the network to central monitoring points, where the data is processed by operational support systems (OSS) and business support systems (BSS) — such is the case in which gateways send IoT data via LoRaWAN networks for processing. Hence, smart cities and IoT go hand in hand.
The IoT economy needs power: Crosswalk presence detectors, light sensors in the street lights, home utility meters, thermometers, ozone detectors, radiation detectors, and smoke detectors can now be found throughout many cities. The growing number of sensors and IoT systems deployed throughout smart cities means that managers must oversee the installation, maintenance, and operation of more products in more locations than ever before.
Because of this, some of these systems are deemed "too critical to fail." For example, priority is given to traffic control signals due to the potential for lethal impact whenever traffic lights go out, and repeater stations used by first responders to provide dispatch and emergency digital communications are crucial to maintaining ambulance, fire, and law enforcement services.
Given these mission-critical circumstances, smart cities need smart power devices to ensure that their IoT services are flowing. Using remotely monitored and managed power distribution units (PDUs) can help bring the stoplight systems up in the proper order; monitor the temperature and environmental conditions within the cabinet; and detect whether a vandal has opened the doors to the cabinet by detecting the status of dry contact closures.
Having a network infrastructure that is powered by intelligent rack-mount PDUs also provides a path to reduced energy expenditures by turning off assets that do not need to remain on when they are not in use. For example, city buildings such as libraries, schools, and museums can all be powered down when not in use, saving money and being "greener" for the environment.
Conclusion
Smart cities take advantage of harnessing data to make day-to-day living comfortable, convenient, and safer. Putting information and services in the hands of the population gives citizens a deeper engagement in the community. With the breadth of sensors, systems, and networks that go into putting the "smarts" and safety into a city, it is imperative that architects and designers provide a means of intelligent power sources. Working with partners who are power strategy experts will help to ensure that all of the city's sensors, systems, and networks can be carefully monitored and controlled to fulfill the smart city promises and fuel the IoT economy to new levels of citizen betterment.
Click here to view the original article published on Electronic Products, April 18, 2019.

*Reference: https://www.usnews.com/news/energy/slideshows/10-cities-adopting-smart-grid-technology
What is a Vertical PDU? Defined.