RJ Tee
March 02, 2016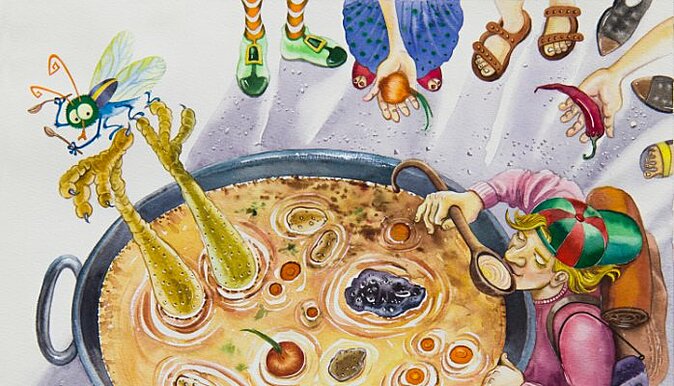 Stone Soup is an old folk story in which hungry strangers trick the local people of a town into sharing their food. The story is usually told as a lesson in cooperation, especially amid scarcity. It is an Aarne-Thompson tale from around 1548.
Some travelers come to a village, carrying nothing more than an empty cooking pot. Upon their arrival, the villagers are unwilling to share any of their food stores with the hungry travelers. Then the travelers go to a stream and fill the pot with water, drop a large stone in it, and place it over a fire. One of the villagers becomes curious and asks what they are doing. The travelers answer that they are making "stone soup", which tastes wonderful, although it still needs a little bit of garnish to improve the flavor, which they are missing. The villager does not mind parting with a few carrots to help them out, so that gets added to the soup. Another villager walks by, inquiring about the pot, and the travelers again mention their stone soup which has not reached its full potential yet. The villager hands them a little bit of seasoning to help them out. More and more villagers walk by, each adding another ingredient. Finally, a delicious and nourishing pot of soup is enjoyed by all.
So my question is- Are the big DCIM players selling stone soup?
It's a controversial subject I guess, but I am curious to know what other people think and have experienced with DCIM.
DCIM has been marketed almost as the tool(s) that allow you to do everything and manage everything- but in order to get maximum benefit, there are a number of products/infrastructure requirements that will render your DCIM solution ineffective unless you have them.
Here are just a few I can think of-
Asset tagging and tracking

Intelligent PDU's that measure power at the socket level of the PDU

Cooling measurement monitoring and management

CFD modeling data

Temperature and humidity probes

Network/patch panel management

An up to date inventory/CMDB of what is in each rack, what are they connected to, etc

Others?
So, if you have all or most of these items already, what is DCIM doing for you? I understand that it can aggregate all of the above information and give you a holistic view of the total environment, but does everyone need that?
Any good management system will provide you with meaningful reports that give you actionable information. Our power management solution, Sentry Power Manager, comes with out of the box reports that we know people use to help them manage power, temperature, and humidity capacity. And when we bolt-on tools from companies like RF Code, we take the solution much further.
And if you don't have some of the fundamental things like power measurement at the power strip level or an up to date inventory database on where everything is, I'm not sure DCIM can be maximized in an environment.
It's a prickly one to discuss as many organizations have probably invested a lot of time, money, and resources into a DCIM project or a DCIM tool, but I am curious what others think.
It's a huge industry and there are so many companies that do a good job providing solutions, so I'm really interested to hear from the Data Centre community on what their experiences have been and, if they could click undo, would they still do it all again?
What's Keeping Data Center Managers Up at Night? Recent Survey Tells All