Blog  ▸ 
Keeping Up With Data Demands In The Medical Field
Keeping Up With Data Demands In The Medical Field
RJ Tee
May 03, 2016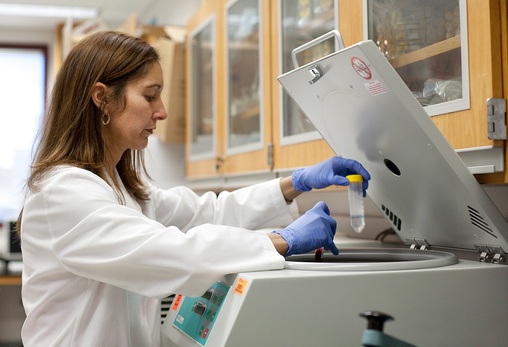 Elizabeth 'Liz' Wise, biological scientist in the oncology lab of Christopher Cogle
Things, as they say, change. This statement holds particularly true in the medical field, where advancements often take place at lightning speed. New technologies supplant old ones overnight, and best practices are rewritten with each passing day.
No one knows this more than our client, University of Florida Health. As technologies such as X-ray and PET scans have been converted from film to digital imaging and as medical records transition from paper to digital, the need for secure, HIPAA-compliant servers has grown exponentially. As a result, UF Health has expanded from a single data center to four over the past decade, with Data Center Manager Joseph Keena overseeing each move.
Keena and UF Health were recently eyeing a new data center space with a higher ceiling than normal, which would allow his team to deploy racks taller than 42U. To accommodate this new space, Keena needed a customer power solution to fit the cabinets and increased power densities that came with them. Unsure of whether blade servers or 1U would work best, Keena and his team contacted the power strategy experts at Server Technology.
The answer came in the form of Server Technology's Switched family of products, which enabled Keena's team to access their PDUs remotely while gathering environmental and power data. With Sentry Power Manager added into the mix, Keena was able to add environmental probes to his cabinets so he could see the temperature and humidity at a granular, rack-by-rack level.
Today, Keena and the UF Health team are armed with detailed data they could have only previously dreamed about. With the environmental data at his command, Keena can draw up graphical representations of all points within the data center, overlaying this information with real time data. He can also use SPM's graphs and trending reports to prevent outages due to bad power supplies.
UF Health's decades-long partnership with Server Technology is a testament to the power of working with customers to find workable solutions to their problems, something we do every day.
9 by 9