Density Solutions
HDOT wins 2018 PDU of the Year
Server Tech's High Density Outlet Technology is the most popular and innovative PDU on the market. It is available in Switched, Smart, POPS, and with Alternating Phase Outlets. HDOT is the one PDU to solve today's top data center challenges: Power Density, Capacity Planning, and Remote Power Management.
HDOT is the PDU that you can configure to order with only 4 easy steps
Build density into your data center with award-winning HDOT and Alternating Phase technology:
Highest Density Outlet Technology
The right outlets in the right place
Most outlets per form factor
Easy Load Balancing
Alternating Phase Outlet Technology

We've been selected as the winner for the 2018 DCS Awards PDU Product of the Year.
Thank you all for your support!
Short on real estate, high on rack components?

Choose High Density Outlet Technology

High Density Outlet Technology (HDOT) has the most outlets in a 42U intelligent Rack PDU with industry standard C13 and C19 outlets. Comes with high native cord retention and color-coded alternating-phase outlets for easy cabling. Learn how our HDOT PDUs with Alternating Phase Technology improved a Networking Company's power density.


Looking for the perfect load-balancing solution?

Choose Alternating Phase

Alternating phase outlets alternate the phased power on a per-outlet basis instead of a per-branch basis. This allows for shorter cords, quicker installation, and easier load balancing for 3-phase rack mount PDUs. Shorter cords mean less mass, making them less likely to come unplugged during transport of the assembled rack. Read the Alt Phase Executive Summary .

Need a rack PDU tailored to your data center?

Try Building Your Own PDU

Both HDOT and Alternating Phase are available through Server Technology's "Build Your Own PDU" configurator. Build Your Own PDU takes a Switched, Smart or Metered 42-outlet High Density Outlet Technology (HDOT) PDU and allows you to build an HDOT PDU your way in Four Simple Steps. Choose a configuration. Download a spec sheet and request a quote in four simple steps. Click here to get started.
Award-Winning Density Solutions
HDOT is the recipient of multiple industry awards including Datacenter Solutions and Datacenter Dynamics.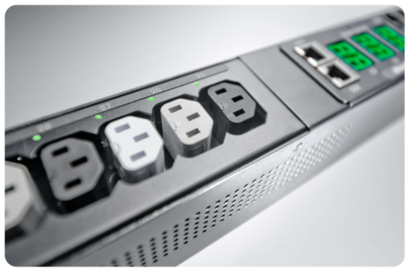 Supporting Documents
White Papers
Application Notes
Case Studies
Power Measurement Solutions
Per Outlet Power Sensing |
The best outlet power measurement technology on the market for data center rack-level power monitoring.
Adds Per Outlet Power Sensing (POPS) to the Switched PDU which provides power monitoring per an individual outlet/device. Power information per individual outlet /device includes current, voltage, power (kW), apparent power, crest factor, and power factor. Using our grouping technology, power information is available per device, groups of devices (application), individual PDU, or cabinet.
Per Inlet Power Sensing |
The best infeed power measurement technology on the market for data center rack-level power monitoring.
PIPS technology replaces power monitoring at the RPP (Remote Power Panel) in data centers with higher accuracy and lower cost monitoring of each power circuit attached to a PDU. This feature enhances equipped Smart, Switched, and POPS PDUs with the most accurate and extensive metrics on the market. Expect the same quality and functionality on current intelligent PDUs, but with an increased level of information to help you make critical decisions regarding your facility.
About Server Technology
Server Technology's power strategy experts are trusted to provide Rack PDU solutions for demanding data centers worldwide ranging from small technology startups to Fortune 100 powerhouses. Because power is all we do, you will find us in the best cloud and co-location providers, forward thinking labs, and telecommunications operations. Server Technology customers consistently rank us as providing the highest quality PDU's, the best customer support and most valuable innovation. Let us show you; we have over 12,000 PDU configurations to fit every data center need. Only with Server Technology will customers Stay Powered, Be Supported, and Get Ahead.
See what our customers say.
Highest Quality Rack PDU's
Best Customer Support
Most Patents in the Industry
Connect with a power strategy expert!