Blog  ▸ 
How to Choose Between a Metered and Smart PDU
How to Choose Between a Metered and Smart PDU
Annie Paquette
September 24, 2019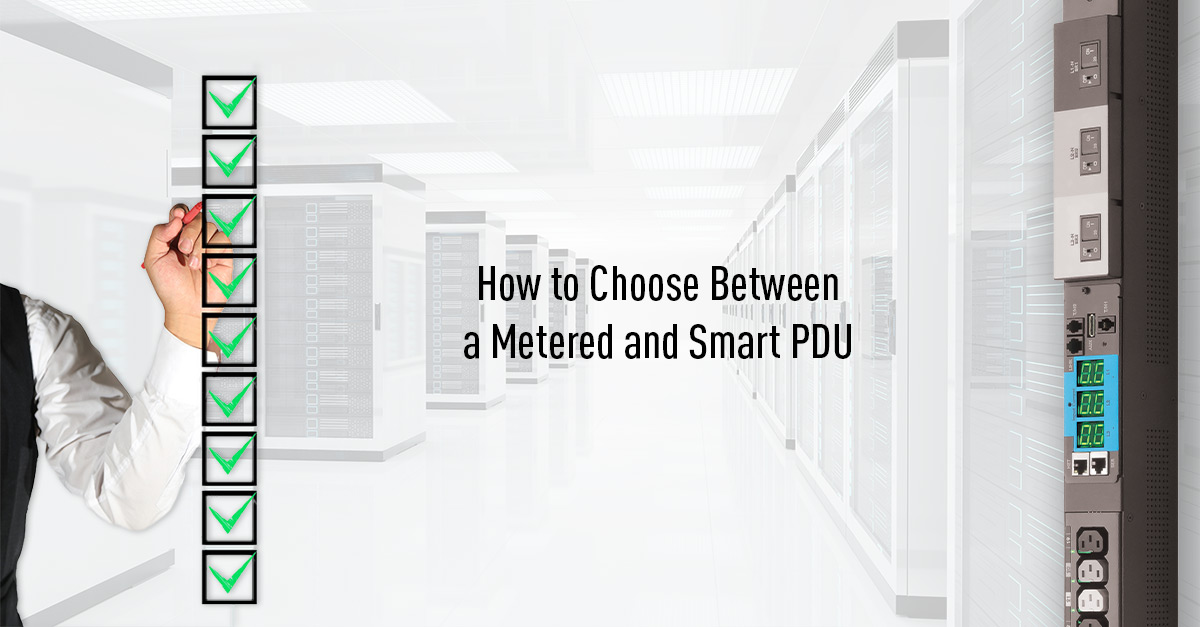 This is a question we get a lot: when it comes to intelligent PDUs, is it better to go with Server Technology's Metered PDU, or the Smart PDU? The answer boils down to the this: what is the budget, and how far do you want to go in your quest to monitor and control power at the rack through a metered power strip?
Invariably, a comparison between our Metered and Smart PDUs begins to sound like we are not interested in selling the Metered variety. That is simply not the case. Our Metered PDU product is the perfect solution for people whose intelligent PDU needs are not data-intensive. For many, a small screen at the unit is all they need, thank you very much. In an apples to apples comparison between Metered and Smart PDUs, Metered is initially a more economical way to distribute power while still getting just a teensy bit of intelligence.
Metered PDU customers can still do things like balance phases and protect loads – just without the software and network connectivity. The interface on a Metered PDU will still give you critical data like the amperages passing through the unit.
That said, you may be more of a Smart PDU person if any of these capabilities sound like something you need in your data center:
1) Metering of the input and output power at the unit including power usage, quality and capacity
2) Network connection to the unit either via ethernet or Bluetooth
3) User-defined software interface to monitor, measure, and control the PDUs
4) The ability to receive and manage alerts from the PDUs, with data integration features to building automation and DCIM software packages
5) The ability to turn power on and off, both to individual receptacles and groups of receptacles, remotely.
6) The ability to support environmental monitoring sensors
With the intelligence that they are able to provide about power within the rack, they do offer some improvements over traditional rack PDUs, such as helping control cost and improving the operational efficiency of the power distribution system. Some would argue that they support environmental sustainability initiatives and lower PUE, while others say they provide improved control of the operation at the rack level. And because Smart PDUs provide such a great level of data gathering, they allow for greater capacity planning and overall utilization of the electrical system.
All of these Smart PDU benefits intertwine to support increased data center uptime. And with that, I think we have done it again, going on and on about our Smart PDU. More often than you know, a Metered PDU is the perfect choice for those whose intelligence-gathering requirements aren't big enough to warrant the extra expense.
Smart PDU Pricing: Why Quality Matters