Blog  ▸ 
Help Your Data Center's Tenants Save on Power
Help Your Data Center's Tenants Save on Power
RJ Tee
July 22, 2015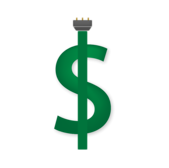 Think about how hard it is trying to get your kids to turn off the lights when they're not using them. Why don't they listen? It's because they don't pay the bill; and usually, they don't listen until you start asking them to chip in on the bill.
The same problem exists in multi-tenant data centers, where tenants often have little incentive to reduce their energy usage. There is often a big divide between the expectations of tenants who pay premium rates for data center space and building operators who must deal with exorbitantly high utility bills. Further, multi-tenant data centers are some of the most egregious environmental offenders due to how much power they consume on a monthly basis.
So, what can be done to solve this problem?
The answer lies in real-time power monitoring. Instead of charging flat rates for unlimited energy usage, multi-tenant operators should instead bill tenants on a per-usage basis. This way, incentives could be offered which could influence data center tenants to be more responsible about the energy they use. With this type of system in place, tenants who use far less power on a daily or monthly basis would be rewarded for their efforts while those who require more would pay the appropriate price.
One of the best ways to implement this type of system is by switching from traditional power distribution units to a solution like the High Density Outlet Technology (HDOT) Switched PDU from Server Technology. Using HDOT Switched, multi-tenant data center operators will be able to show tenants exactly how their servers are using energy in real-time, to eliminate any confusion that arises during the billing process.
If Density Is the New Black, then the HDOT PDU is The Fonz