Blog  ▸ 
Cx and the Environment: A New "Intelligent" PDU
Cx and the Environment: A New "Intelligent" PDU
Annie Paquette
May 29, 2019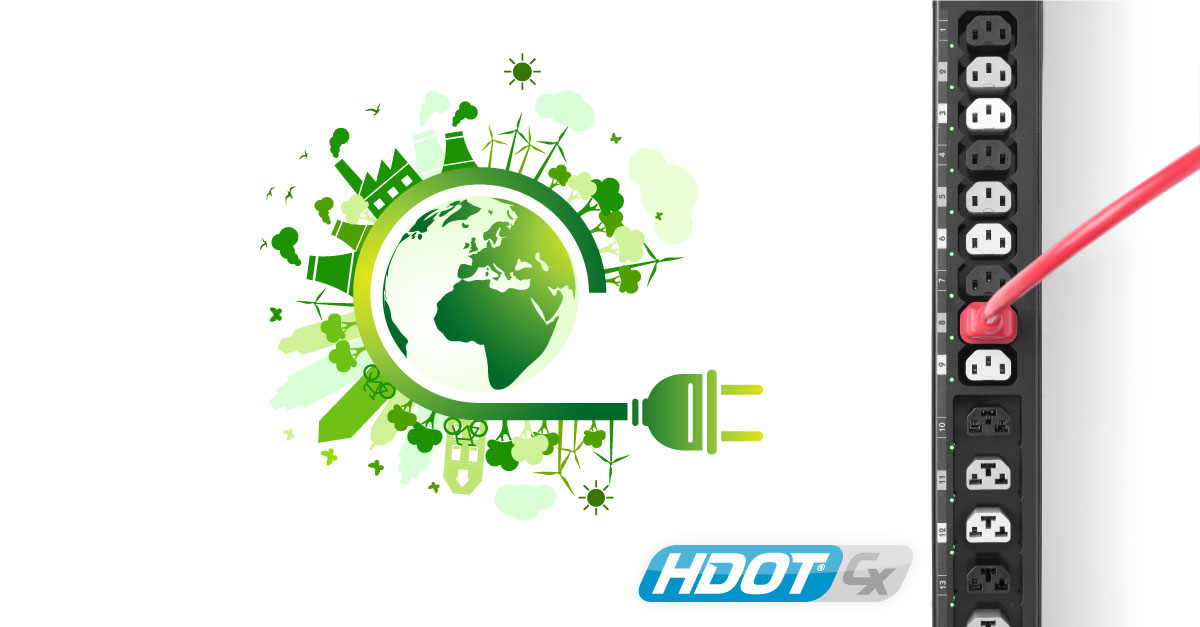 More and more, the data center industry is in the environmental spotlight: not in the sense of data center environmental monitoring, but in the broader sense of the planet's environment. In this blog, we talk about how the HDOT Cx has been created to bring new meaning to the term 'intelligent PDU.'
It doesn't take a data center electrical engineer to tell you that our industry is heading toward a crisis. It's a real one, mind you, and not one of the manufactured variety. Our industry is one that produces a lot of digital clutter, and not only in the form of all of the 1's and 0's that make up the data we create and store. I'm talking about the millions of servers, storage devices, and networking appliances that are manufactured, put into service, and then tossed into the digital scrap heap.
A recent Data Center Knowledge article addresses the issue of the stockpiles, noting that approximately 65% of organizations in a recent survey noted that they store, but do not dispose of, their old hard drives. While the focus of that article is on the liability issues involved with improper storage of personal data (there are laws, you know), it should be noted that it also reveals the generally accepted practice of hoarding old electronica.
Marie Kondo would not be impressed with the back rooms of most data centers. No joy being sparked there.
Speaking of which, UPS and battery rooms are also the source of waste, albeit in a slightly different but no less environmentally detrimental way. Batteries that are the energy storage backbone of most data centers. Each month, millions of lead acid VRLA and wet cell batteries are 'recycled,' a term that is put into quotes because there is nothing environmentally friendly about the production or recycling of lead. Recycling is better than burying, but not by much. And while alternatives such as Bloom Energy's hydrogen fuel cell are increasingly adopted, the lead acid battery is still king.
You know things have taken a turn in your industry when Greenpeace goes after its largest player. Amazon's energy consumption practices have caught the attention of the largest environmental activist group on the planet. Their gripe? It seems that Amazon is having a tough time keeping their commitment to powering most of Northern Virginia with renewable power, and the local utility isn't helping the cause. Although this kind of news is not new – Apple and Facebook have been in the Greenpeace crosshairs for a long time – it does point to one truth. Even the largest data center owners on the planet, with the largest energy commitments and the resources to follow through, are struggling to reuse, reduce, and recycle.
What does all of this say about us? Our point today is not to paint a bleak picture of the efforts of the data center industry. Despite the fact that we are struggling as an industry with the effort to protect the environment, the point is that we are indeed addressing the issue. What does that mean for Server Technology? We realize that we can, and should, be part of the solution.
Which brings us back to intelligent PDU ideas. For us, the new HDOT Cx is a breath of fresh air in the data center PDU market. Ultimately, it provides a more efficient solution that is environmentally mindful. By providing two outlets in one, we have stretched the service life of our PDUs, saving them from the digital scrap heap.
The Smart City Within the Marvel Universe